Mondaiji tachi ga isekai kara kuru sou desu you?:
Genre: Action, Comedy, Fantasy
Plot:
Sakamaki Izayoi. Kasukabe You, and Kuduo Asuka all live dull lives because of their physic powers. One day, they receive a letter that transports them to Little Garden, a place with powers called "Gifts." They were summoned to the community "No Name" to help throughout their battles in the Gift Games.
Anime
Title: Mondaiji tachi ga isekai kara kuru sou desu you?
Directed by Yasukata Yamamoto
Written by Noboru Kimura
Music by Shiro Hamaguchi
Studio: Diomedea
Released: January 11, 2013 – March 15, 2013
Episodes: 10 episodes + 1 OVA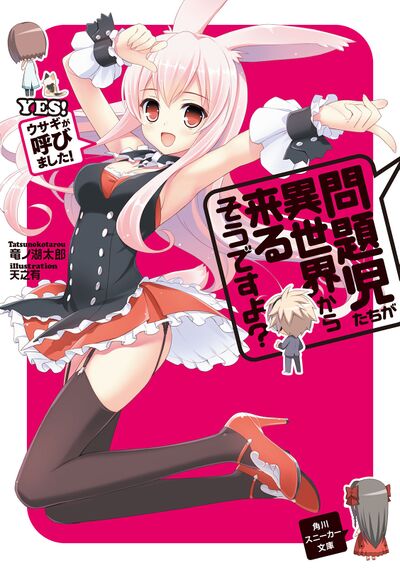 Light Novel
Mondaiji tachi ga isekai kara kuru sou desu you?
Written by Taro Tatsunoko
Published by Kodokawa Shoten
Imprint by Kodokawa Sneaker Bunko
Released: April 1,2011 – ongoing
Volumes: 10
Manga
Mondaiji tachi ga isekai kara kuru sou desu you?
Written by Rio Nanamomo
Published by Kodokawa Shiten
Magazine: Monthly Comp Ace
Released: September 2012 – January 2014
Mondaiji tachi ga isekai kara kuru sou desu you? Z
Written by Anri Sakano
Published by Fujimi Shobo
Magazine: Age Premium
Released: August 9, 2012 – October 9,2012
Volumes: 3
Characters:
Main Characters: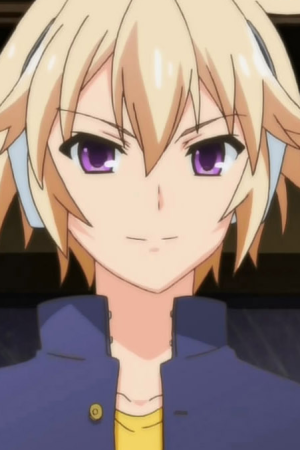 Sakamaki Izayoi
Sakami  Izayoi is a boy that tries to solve everything with violence but he is very smart. His Gift is Unknown. According to the Gift Card, it is an ability that cannot be figured out, but it can negate and destroy other gifts. His most important goal is to have fun.
Kudou Asuka
Kudou Asuka is a rich young lady who has the Gift "Authority," which allows her to command others and control other gifts. She has another gift called "Dean." She received that gift from the children who died during Hamelin. Her most important goal is to understand others.
Kasukabe You
Kasukabe You is a quiet young girl that has the Gift "Genome Tree-Non Priorum," given to her by her father. It allows her to speak to animals and be friends with them.  She is often accompanied by a cat who was her first friend. Her most important goal is making friends.
Kurousagi
Kurousagi is the person who summons Izayoi, Asuka, and You to Little Garden. She tries to be serious but gets easily flustered. When using her powers, her hair turns from blue to pink, and she is granted enormous leg strength speed equaling Izayoi's speed. One of her Gifts is the "Spear of Indra," a legendary weapon that allows her to control lighting.
Other Characters:
Jin Russel
Jin Russel is the leader of No Name and the oldest child in the community. He respects Izayoi and listens to what he says.
Lili
Lili is one of the member of No Name and is Jin's childhood friend. She is an anthropomorphic fox.
Leticia Draculair
Leticia Draculair is a former member of  No Name and is now a maid for them. She is a pure blood vampire and is known as the "Knight of Little Garden," for what her race has done in the past. She has a more mature form that turns her into the true form of a vampire. One of her Gifts is the "Lord of Vampires."
Shiroyasha
Shiroyasha is the Floor Master of the East side and the Demon Lord of the White Night. One of her Gifts is "Game Board," and she has the powers of the Sun. Her Divine power is "seal," making her look more loli. She is a pervert. Kurouasagi is a victim of Shiroyasha and Izayoi's perverted things.