Eureka Seven Anime Review
(Warning, this blog contains something so amazing, you might not survive by the time you finish it. Prepare yourself)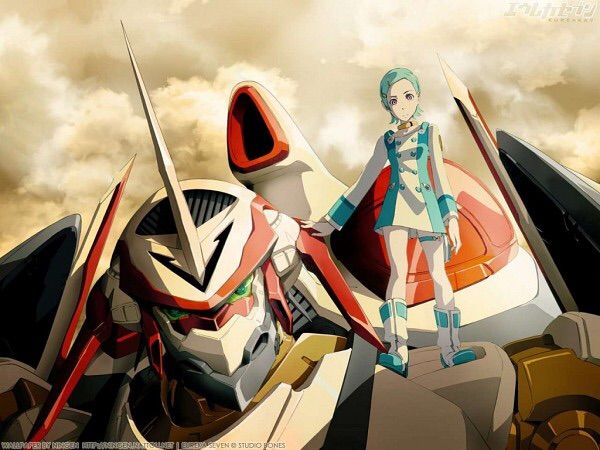 Before I even started Eureka Seven, I knew I was going to enjoy it. I didn't know anything about it, so I don't know why I had that feeling. Because I knew I was going to like it, I actually refused to watch it so I won't suffer in the end. Well, I decided to throw away the thought and just watch the damn thing, and I was not disappointed. Ladies and gentlemen, I present to you, Eureka Seven. Let's get started.
Eureka Seven (also known as Psalms of Planets Eureka seveN in Japan) is an original idea brought to us by the anime studio Bones, well known for its works such as Soul Eater and Fullmetal Alchemist. It aired a total of 50 episodes from April 2005 to April of 2006. Followed by a bunch of manga, light novels, and games, before a movie was released in April of 2009. A sequel series, Eureka Seven: Astral Ocean was released in April of 2012 and aired 24 episodes + an OVA.
Genres: Adventure, Action, Military/War, Mecha, Romance
Plot of Eureka Seven
core 8.4/10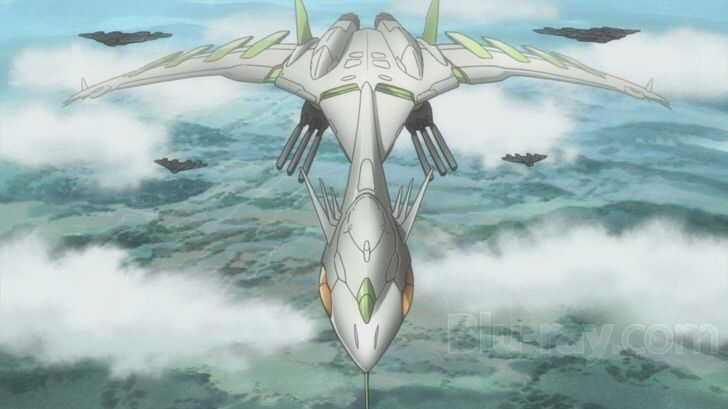 The series centers around Renton Thurston, the fourteen-year-old son of Adroc Thurston, a military researcher who died saving the world. He dreams of joining the renegade group Gekkostate, led by his idol Holland Novak, a legendary lifter. An opportunity to do so practically falls into his lap, when a large mecha, called the Nirvash typeZERO, and Eureka, its pilot, and a member of Gekkostate, crash into Renton's room. Renton's grandfather orders him to deliver a special part to the Nirvash called the Amita Drive.
Afterwards, Renton is invited to join Gekkostate, where he quickly discovers that the behind-the-scenes life of Gekkostate is hardly as glamorous or as interesting as printed in the glossy pages of their magazine, ray=out. Only one thing makes it all worthwhile for him: the presence of Eureka, the mysterious pilot of the Nirvash. Renton, Eureka, and the Gekkostate embark on an adventure that will shape their future as well as the world's.
When I first started the anime, I didn't have any idea what it was about. After the first few episodes, I got a general idea what it was about, but a problem was that some things were left unexplained. It kinda threw you into the anime expecting you to understand some stuff, like Trapars for example, but there's a lot more stuff that you need to understand. I basically got a general idea of what it was, but it was never really explained to me until later, which I was actually fine with.
Even with these minor unexplained things, most of the plot carries out smoothly, which is surprising for a 50 episode anime. It managed to avoid filler and stay on the main storyline. And eventually, things are explained later in the anime, but some people might not be patient enough to wait for it. In the end, it all falls together perfectly.
Animation and Action of Eureka Seven
Score 8.8/10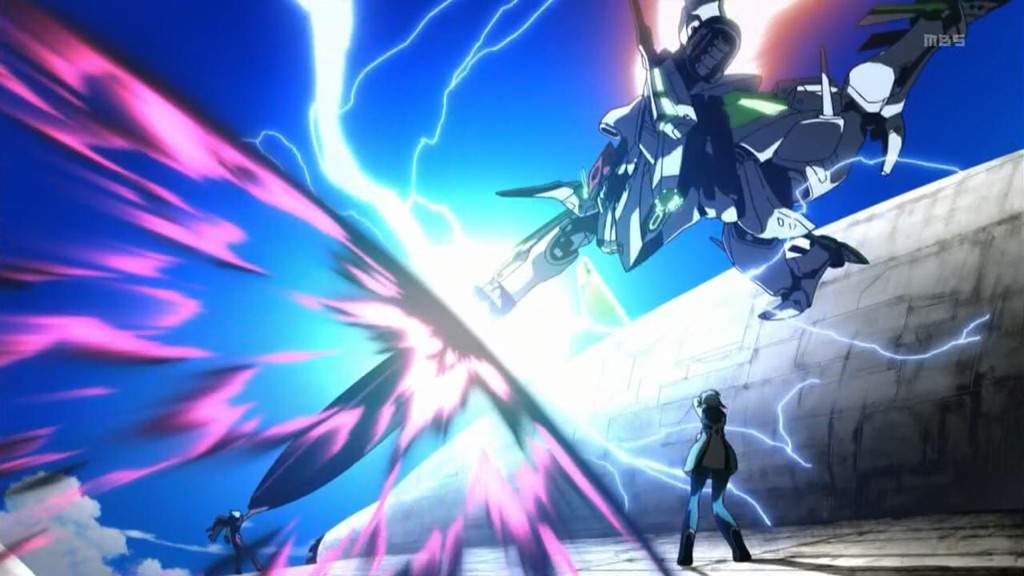 What really made this series great was that it was actually based in like a time of war and rebellion, which really brought a lot more action then I expected in the anime. It didn't take long for there to be any action in the anime and it was always enjoyable to watch.
Being a Mecha anime, it made the action much more exciting, but they didn't just focus on the Mecha side. They had some "normal combat" as I would say, with just people shooting at each other (for reasons obviously) and I liked that. They didn't just focus on one which was great.
Being an anime from 2005, I didn't expect the animation to look SUPER amazing. For being a 2005 anime, the animation was actually very well done, especially in the action and the Mecha parts of the anime, which surprised me.
The character designs and background animation were also well done. Nothing was really distracting, so I was able to keep my attention to whatever was happening instead of stuff like, "Hey look at that rainbow… That's a pretty rainbow…" and miss all kinds of stuff. All in all, the animation and action worked together perfectly.
Characters of Eureka Seven
Score 8.9/10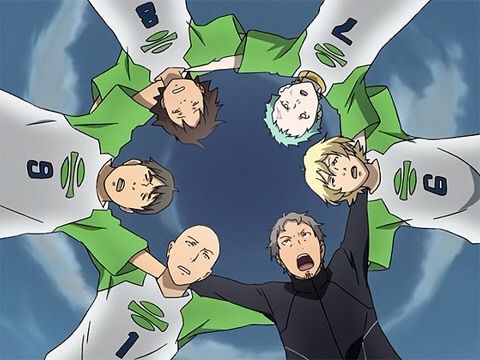 A lot of the characters were fairly interesting due to the setting of the anime. Most of them had lived out harsh lives or experienced hardships which lead them up to where they were. Most of the characters were likable, even the villains in some cases, which put a bit of a different view on things. Sure there were a few characters here and there that got on my nerves, but it didn't really have a huge effect on anything.
The main characters were definitely the ones that shined brightest though considering at first, there was absolutely no kind of relationship between them, so it was great to watch them grow closer to each other over time. Of course the anime centered around the love story between these two, but things really needed to fall into place before all of that.
Renion Thurston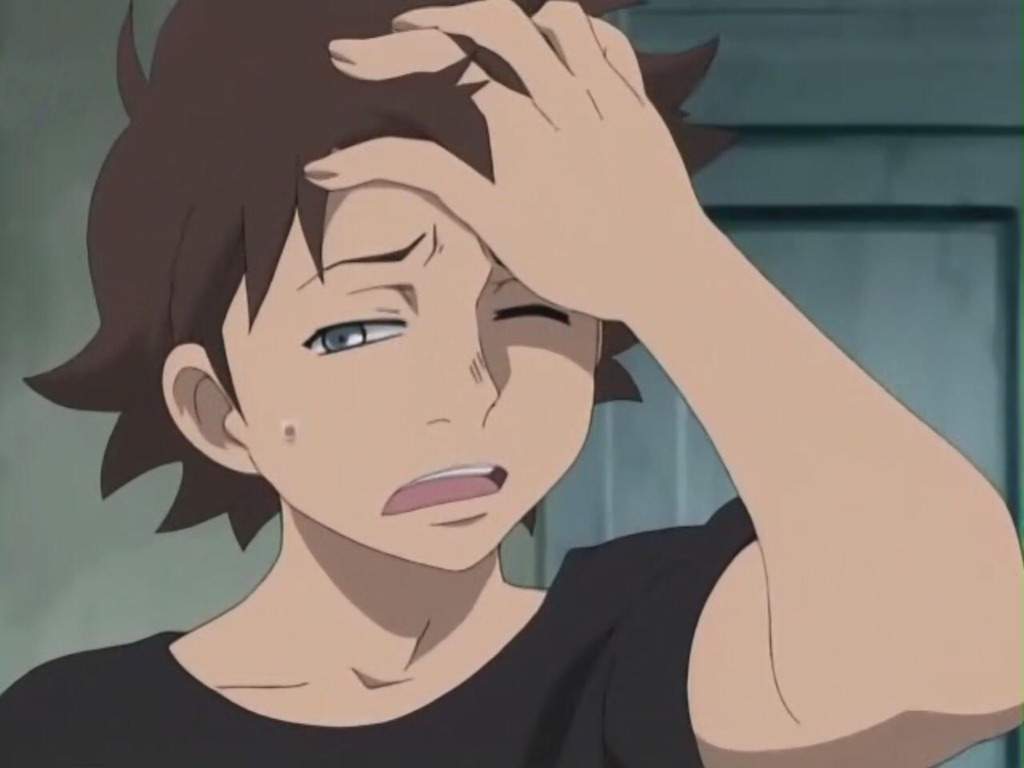 Renton is your typical kid that wants to do something exciting with his life. He is a very outgoing and emotional person possessing strong ideals and compassion yet is naive and tends to jump into matters before understanding what's going on. As a main character, I see him just like most main characters, but most main characters don't turn out in the end like Renton does.
Eureka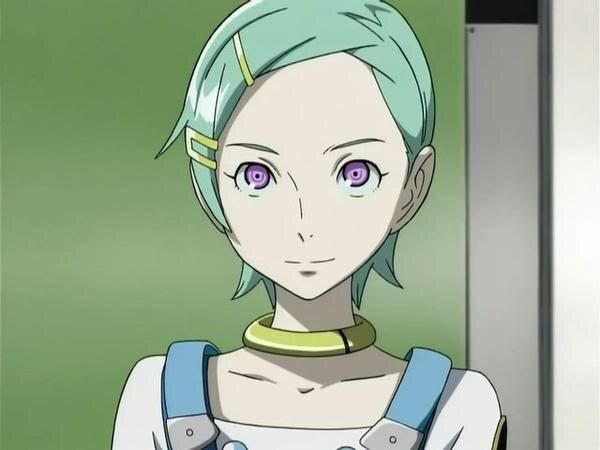 Eureka is something interesting considering I haven't seen much like her character. Near the beginning of the anime, she is basically emotionless and cares about nothing. Not only that, but she's not even (wait, don't want to spoil) and that makes a HUGE difference. I really like how that changes almost everything in the anime and we get to see how her character changes into something much more special.
The Gekko Crew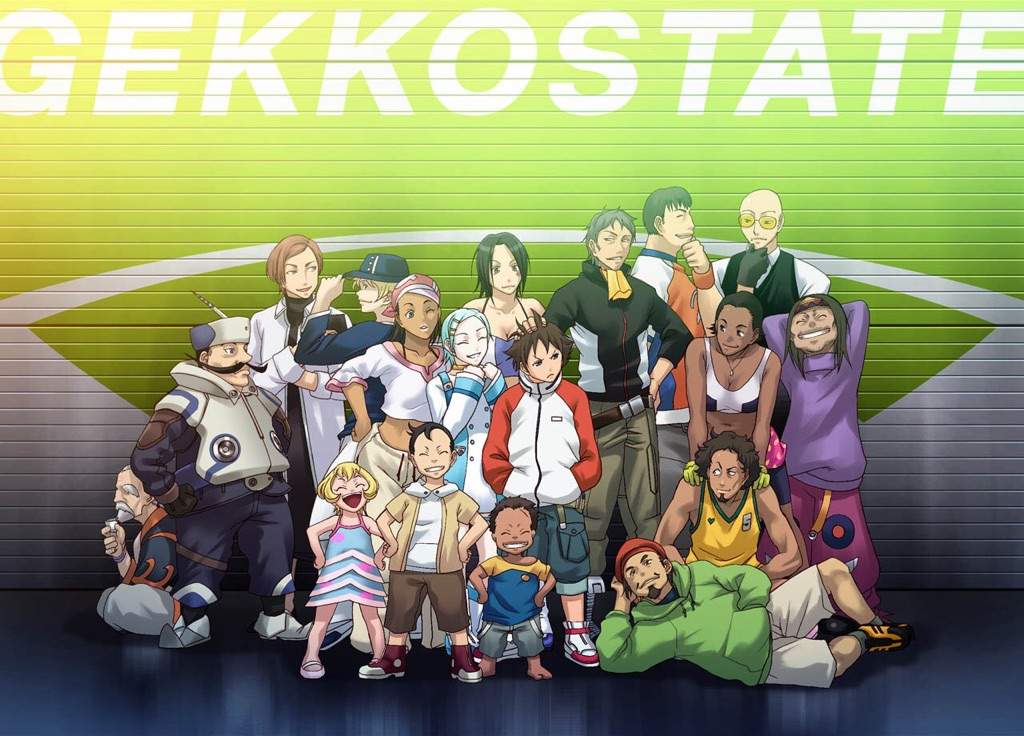 Gekkostate is an anti-government militia and counterculture collective led by Holland Novak. Members include:
Stoner – is a photographer who writes Gekkostate's illegal magazine, ray=out.
Talho – the head pilot of Gekkostate's aircraft, the Gekko and also ray=out's covergirl and Holland's girlfriend.
Hap – Holland's childhood friend and the second-in-command of the Gekko.
Ken-Goh – the weapons specialist and owner of the Gekko.
Jobs and Woz – the ship's engineers, for hardware and software.
Mischa – the resident doctor.
Moondoggie – a secondary pilot and operator of the launch catapult.
Hilda and Matthieu – pilots of the Gekkostate LFOs Terminus typeR808 and Terminus typeR606.
Gidget – communications operator.
Gonzy – fortuneteller.
The character development in anime was extremely well done. Showing the effects of war, we are not only seeing the characters learn more about themselves and their world, but ours as well. Almost every character was able to experience a huge amount of development, being very different kinds of characters by the end of the anime.
Music of Eureka Seven
Score 7.6/10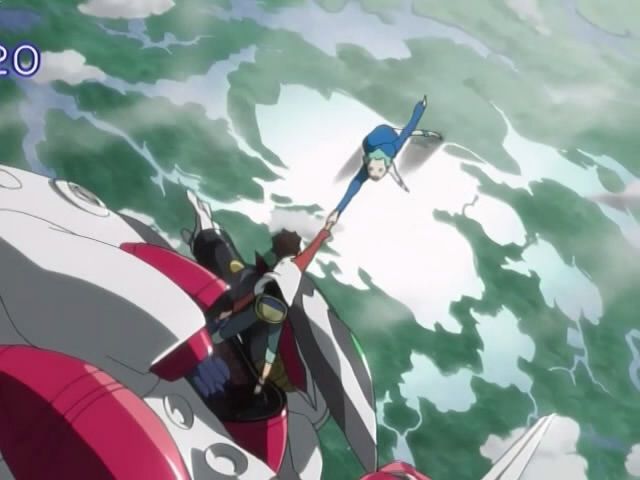 The music was one part of the anime that wasn't all that great. Some of the music was enjoyable, but most of the OP music had a strange feeling to it and made it kind of boring and not really relating to the anime. My favorite out of the four OPs would have to be "Sakura."
The EDs were a bit better than the OPs in a way, but not super enjoyable to where I would stop and watch them a lot. Usually I skipped over them because I wanted to watch the next episode.
The OSTs saved the music part of the anime. The OSTs managed to stand out at crucially moments in the anime and made things either a lot more dramatic or a lot more entertaining. Playing at key moments and being enjoyable to listen to was awesome.
Personal Enjoyment of Eureka Seven
Score: 9.7/10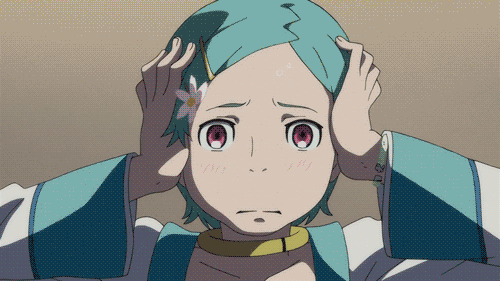 In all honesty, it has been an extremely long time since I have enjoyed something as much as this, maybe I haven't ever enjoyed something like this before. Everything was just perfect for me, the romance, the action, just everything was amazing to me. There wasn't a single episode that flew by that I didn't completely enjoy. And after I finished this anime, it easily became my new Number 1 anime, which wasn't very surprising when I was finishing up the anime and movie. I knew I'd love the anime, but I never thought it'd be this good.
Also, the anime wasn't just constant violence and love story being thrown at you, but actually just being fun to watch. The main pastime in the anime was literally "surfing on air" or lifting, which is a huge theme in the anime, but that alone is very fun to watch.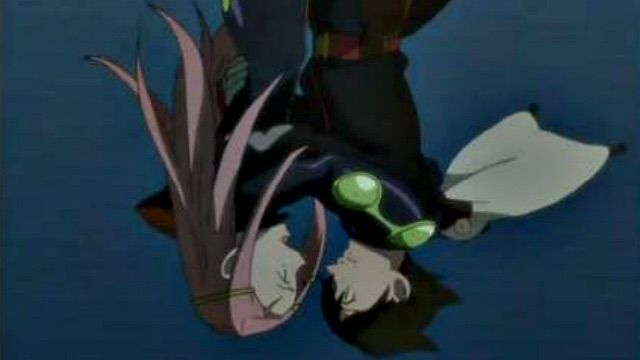 When I look at it, I think it's actually hard to not like this anime, but I know there's always that one person out there that probably thinks it's shit just because of the love story. Well, it's better than Kirito and Asuna. So, if you enjoy any such as Gurren Lagann or anything really Mecha related, I definitely recommend you watch this anime. Also, it's a classic, who doesn't love the good old stuff?
ᑭᒪOT: 8.4/10 ☆
ᗩᑎIᗰᗩTIOᑎ/ᗩᑕTIOᑎ: 8.8/10☆
ᑕᕼᗩᖇᗩᑕTEᖇᔕ: 8.9/10 ☆
ᗰᑌᔕIᑕ: 7.6/10 ☆
ᑭEᖇᔕOᑎᗩᒪ EᑎᒍOYᗰEᑎT: 9.7/10 ☆
Iᑎ TOTᗩᒪ: 8.68/10 ☆
Final Thoughts of Eureka Seven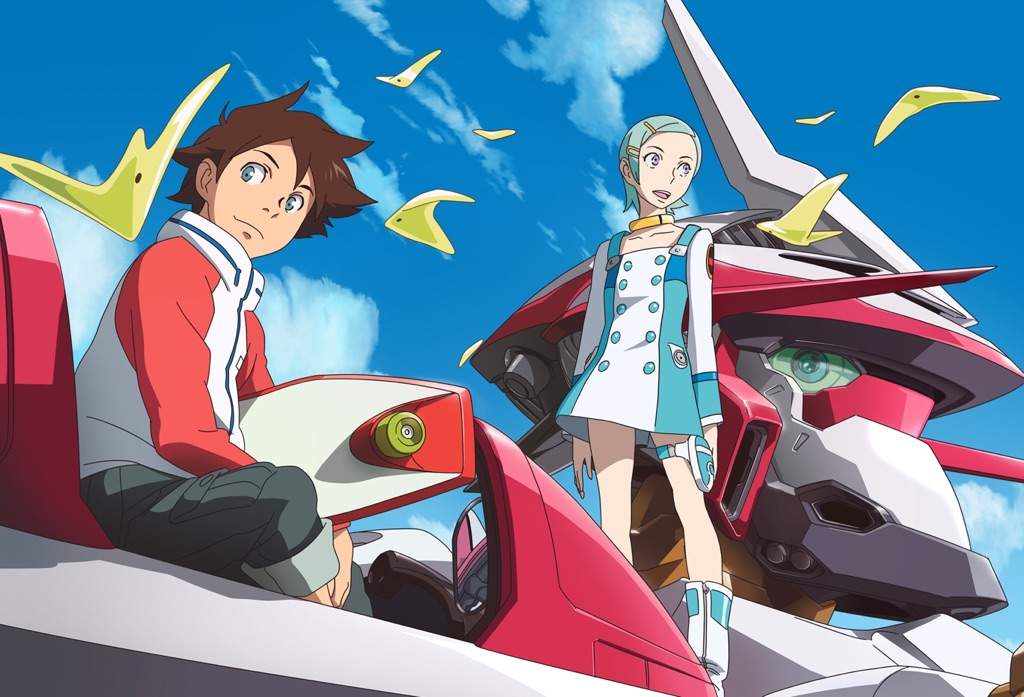 I'm sad that this anime is over, but I'm also glad I watched it. Something like this was truly remarkable to watch, and I still get to look forward to Astral Ocean because I just watched the movie, which I will be doing kind of a detach review all on its own apart from this one. But now, I get to sit here and accept the that it's over, but I will definitely be buying this anime, no matter the cost. So, I hope you enjoyed the review and give the anime a watch, you won't be disappointed.