Mirai Nikki Anime Review
ʟɪɢʜᴛ ᴡᴀs ғᴏʀɢᴇᴅ ᴏᴜᴛ ᴏғ ᴅᴀʀᴋɴᴇss
ᴄʀᴇᴀᴛɪᴏɴ ᴏғ ʜᴇᴀᴠᴇɴ ᴀɴᴅ ᴇᴀʀᴛʜ
ᴀʟʟ ᴡᴀs ɪɴ ᴀ sᴛᴀᴛᴇ ᴏғ ғʟᴜx
ʜᴜᴍᴀɴɪᴛʏ ᴡᴀs ᴡᴏᴠᴇɴ ᴏɴ ᴍʏ ʟᴏᴏᴍ
ɢʀᴇᴇᴅʏ, ʏᴏᴜ ᴅʀᴏᴡɴ ɪɴ sʟʏ ᴘʟᴏᴛs
ʜᴏᴘᴇʟᴇss, ʏᴏᴜ ᴄʀʏ ʙᴇᴄᴀᴜsᴇ ʏᴏᴜ sɪɴ
ʙʟɪɴᴅ, ʏᴏᴜ ᴘʀᴏsᴘᴇʀ ɪɴ ғᴀʟsᴇʜᴏᴏᴅ
ᴡᴇᴀᴋ, ʏᴏᴜ ғᴇᴀʀ ʙᴇᴄᴀᴜsᴇ ʏᴏᴜ ᴅɪᴇ
ʏᴇᴛ ʏᴏᴜ'ʟʟ ɴᴇᴠᴇʀ ᴄᴀᴛᴄʜ ᴀ ɢʟɪᴍᴘsᴇ
ᴏғ ᴛʜᴇ ᴍᴇʀᴄʏ ᴇxᴛᴇɴᴅᴇᴅ ᴛᴏ ʏᴏᴜ
ᴅᴏɴ'ᴛ ᴄᴜʀsᴇ ʏᴏᴜʀ ᴏᴡɴ ʙʟᴇssɪɴɢ
ʏᴏᴜ ғᴏᴏʟɪsʜ ᴇɢᴏɪsᴛ
ʏᴜᴋɪᴛᴇʀᴜ ᴀᴍᴀɴᴏ ɪs ᴀ sʜʏ 14 ʏᴇᴀʀs ᴏʟᴅ ʙᴏʏ ᴛʜᴀᴛ ʟᴏᴄᴋᴇᴅ ʜɪᴍsᴇʟғ ɪɴ ᴀ ʀᴇᴀʟᴍ ᴏғ sᴏʟɪᴛᴜᴅᴇ sᴇᴄʟᴜᴅᴇᴅ ғʀᴏᴍ ᴛʜᴇ ᴏᴛʜᴇʀs.
ʜᴇ ɪs ᴀ ᴘᴀssɪᴠᴇ ᴡᴀᴛᴄʜᴇʀ, ɴᴇᴠᴇʀ ᴛᴀᴋɪɴɢ ᴘᴀʀᴛ ɪɴ ᴀɴʏ ᴇᴠᴇɴᴛ, ʜᴇ ɪɴsᴛᴇᴀᴅ ᴡɪᴛɴᴇssᴇs ʟɪғᴇ ᴀʀᴏᴜɴᴅ ʜɪᴍ ᴛʏᴘɪɴɢ ɪᴛ ᴅᴏᴡɴ ɪɴ ʜɪs ᴄᴇʟʟᴘʜᴏɴᴇ, ʜɪs ᴅɪᴀʀʏ ᴀɴᴅ ᴏɴʟʏ ʜᴏʙʙʏ. ᴏɴᴇ ᴅᴀʏ ᴛʜᴇ ʙᴏʏ ʀᴇᴀʟɪᴢᴇᴅ ᴛʜᴀᴛ ʜɪs ᴏɴʟʏ ғʀɪᴇɴᴅ ᴀɴᴅ ᴠᴏɪᴄᴇ ɪɴ ʜɪs ʜᴇᴀᴅ, sᴏᴜʀᴄᴇ ᴏғ ɪᴍᴀɢɪɴᴀʀʏ ᴡɪsᴅᴏᴍ ᴛʜᴀᴛ ᴏᴄᴄᴀsɪᴏɴᴀʟʟʏ ᴛᴀʟᴋᴇᴅ ᴛᴏ ʜɪᴍ, ᴘʀᴏᴠᴇᴅ ᴛᴏ ʙᴇ ᴍᴏʀᴇ ʀᴇᴀʟ ᴛʜᴀɴ ᴇᴠᴇʀ. ᴅᴇᴜs ᴇx ᴍᴀᴄʜɪɴᴀ, ᴛʜᴇ ʀᴜʟᴇʀ ᴏғ ᴛɪᴍᴇ ᴀɴᴅ sᴘᴀᴄᴇ ᴄᴏɴᴛᴀᴄᴛᴇᴅ ᴛʜᴇ ᴋɪᴅ ᴛᴏ ᴘᴀʀᴛᴇᴄɪᴘᴀᴛᴇ ᴛᴏ ᴀ ᴅᴇᴀᴛʜ ɢᴀᴍᴇ ɪɴᴠᴏʟᴠɪɴɢ ᴅɪᴀʀɪᴇs ᴛʜᴀᴛ ᴄᴀɴ ᴘʀᴇᴅɪᴄᴛ ᴛʜᴇ ғᴜᴛᴜʀᴇ. ᴛᴡᴇʟᴠᴇ ᴄᴏɴᴛᴇɴᴅᴇʀs ᴡɪʟʟ ғɪɢʜᴛ ᴛᴏ ᴏʙᴛᴀɪɴ ᴛʜᴇ ᴛʜʀᴏɴᴇ ᴏғ ɢᴏᴅ ᴀs ʜɪs sᴜᴄᴄᴇssᴏʀ, ᴀ ʙʟᴏᴏᴅ sᴛᴀɪɴᴇᴅ ғᴜᴛᴜʀᴇ ᴀᴡᴀɪᴛs….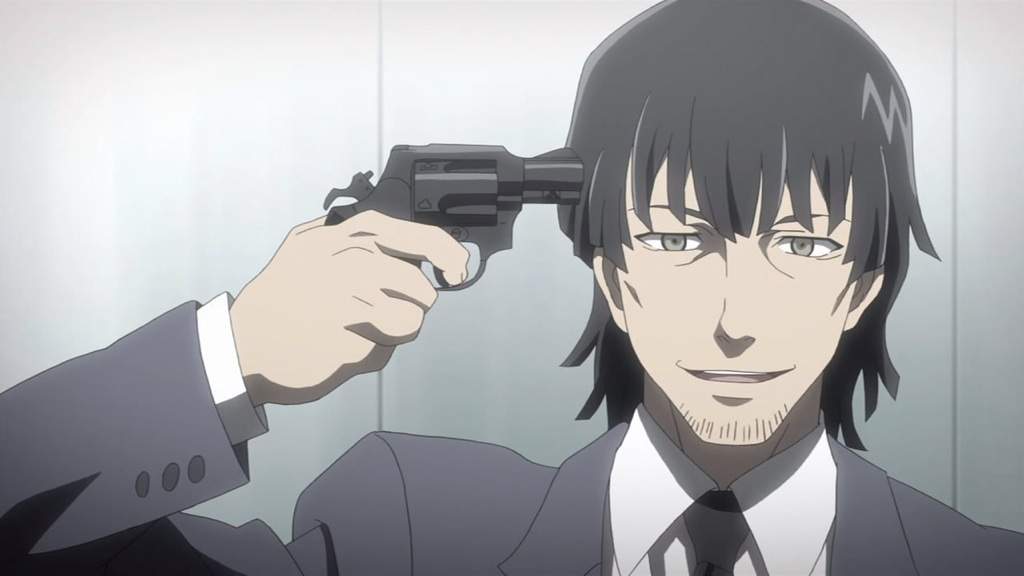 This is the psychopathic review of Mirai Nikki shonen psychological thriller anime from 2011 based on the manga with the same name. The review will concern the 26 episodes of the series plus Mirai Nikki Redial ova, the definitive ending to the series and unofficial episode 27. We're going to analyze the show according to animation, characters, sound, story and personal enjoyment. Will this anime meet its fateful dead end or a glorious happy review ? Let's find out
Mirai Nikki Art and Animation
Score 7/10
The show was produced by Asread, a relatively unknown and young studio with a small number of works but they did a remarkable job in animating the series. Character design is nothing complicated but various nonetheless, with a stereotypical modern Japanese setting. It's safe to say how animation surely kept up with the year the anime was produced, the action and facial expressions (especially of the crazed protagonist Yuno) convey the chaotic and violent feeling of the series perfectly. The opening is surely made to get the best out of the studio's skills, devilishly hysterical and full of subtle symbolism.
Mirai Nikki Characters
Score 5/10 
Mirai Nikki's cast is actually well characterized even though we tend to follow stereotypical archetypes with most of them. The focus is obviously on the two protagonists Yuno and Yukiteru and to a lesser extent, the other 11 contenders. Each of them is easily distinguished, even though their personality and characterization are nowhere near perfection everyone has their own quirks, dreams, morality and ideology. Apart from a few misused and neglected characters it's impossible to ignore how a number of main characters and their developments are clearly copy pasted from Neon Genesis Evangelion. Yuno is interesting in her unpredictable and crazy personality but she tends to become quite obnoxious while Yukiteru Amano is the bane of my existence, he is not wimpy, he just arouses the most pure form of visceral hatred, he is cancer in art form, a walking mass of animated excrement.
Mirai Nikki Soundtrack and Acting
Score 8/10
This show's fantastic and pseudo mythological flavor surely requires an ost that blends the aforementioned elements with the modernity Mirai Nikki is set on and it does succeeds to say the least. The main soundtrack does not really stay engraved into your mind but it serves its purpose of providing with climatic and fitting background music. The anime has its fair number of openings and even though they are all well done the first op still remains classified as crack in sound form. Mostly due to the fact that the gothic singer Yui from Yosei Teikoku is responsible behind the majority of the songs, I don't think someone will hate this aspect of Mirai Nikki.
It's important to mention the amazing thematic album containing character songs Ingaritsu Decibel (probably the best anime inspired vocal album). The voice acting is fine, not that remarkable due to a high amount of "young" seiyuu, but it does its job well (if we don't consider Deus being voiced by the veteran va Norio Wakamoto
)
Mirai Nikki Story and Pacing
Score 7/10
It's really weird how a second time you watch the same anime allows you to look at things for how they truly are. What did change in my considerations list from the first time I watched the show you may ask ? The pacing is still as insane and fast as I expected and you will rarely get dreadfully bored with the series, at any moment the show can catch you off guard, shooting revelations, twists and more obscene stuff literally in your face. Even though the plot is rich with lots of that twisted stuff people like, at one point the series tries too hard, the revelations and plot become needlessly convoluted and that genuine veil of mystery is replaced with excessive drama or stupidity (at times even both). When I was not busy swearing against the protagonist I could also enjoy the Greek style mythological flavor of the series, the 12 contenders are indeed based on olympian gods (with all due references).
P. S: If the ending proves to be underwhelming for you (like in my case) then the ova Mirai Nikki Redial is even worse
Mirai Nikki Personal Enjoyment
Score 7/10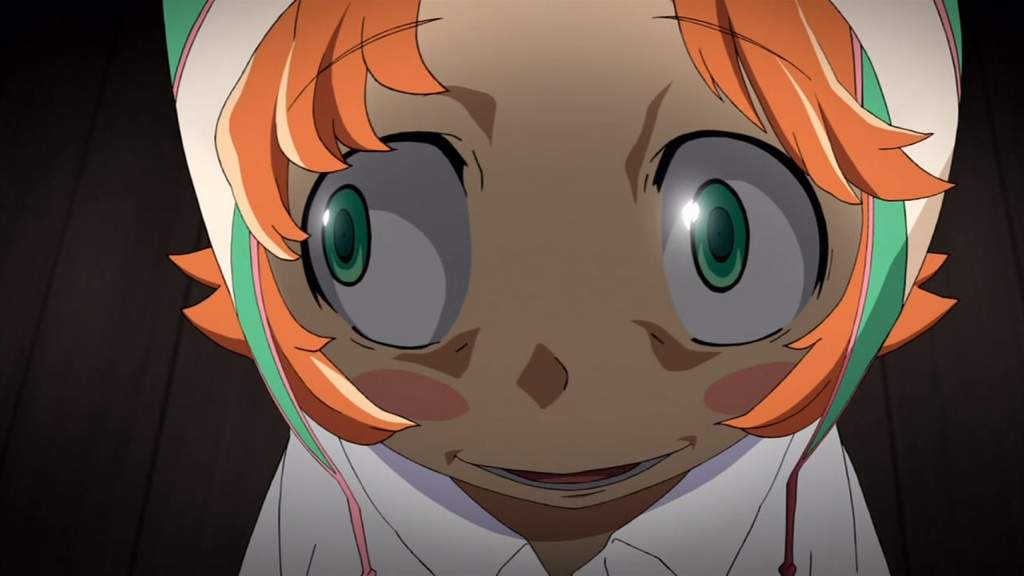 If you try, like all you can, to forget about the very existence of a certain character, the show is worth the whole run. Nowadays we should realize how rare for a series to be fully adapted is, no matter how good was. If you enjoy wimpy cowards, psychopathic yandere, raped girls, insane kids, tons of drama, exaggerated "Luke I am your father" twists then Mirai Nikki is (or was) your kind of animated series. Boasting one of the most popular and iconic female characters to date and a cast of people that surely stimulate a wide range of emotions in you (no not only range). I overall enjoyed this ride to anime despite its obvious flaws and a not so inspiring turn of events at the end of the series. Ah I also liked the omakes (small animated segments at the end of certain shows episodes like Bleach or Naruto) as it provided with much needed humorous situations and comic relief.
P. S: Spoiler
For those of you who were surprised at Murmur being the actual main antagonist of the series just check out her name, Murmur is a demon listed in the Ars Goethia encyclopedia
Final Score 6.5/10