Death Parade Anime Review

ᴅᴇᴀᴛʜ ɪs ɴᴏᴛ ᴀ ʜᴜɴᴛᴇʀ
ᴜɴʙᴇᴋɴᴏᴡɴsᴛ ᴛᴏ ɪᴛs ᴘʀᴇʏ
ᴏɴᴇ ɪs ᴀʟᴡᴀʏs ᴀᴡᴀʀᴇ ᴛʜᴀᴛ
ɪᴛ ʟɪᴇs ɪɴ ᴡᴀɪᴛ.
ᴛʜᴏᴜɢʜ ʟɪғᴇ ɪs ᴍᴇʀᴇʟʏ ᴀ ᴊᴏᴜʀɴᴇʏ ᴛᴏ ᴛʜᴇ ɢʀᴀᴠᴇ, ɪᴛ ᴍᴜsᴛ ɴᴏᴛ ʙᴇ ᴜɴᴅᴇʀᴛᴀᴋᴇɴ ᴡɪᴛʜᴏᴜᴛ ʜᴏᴘᴇ.
ᴛʜᴇɴ ᴀ ᴛʀᴀᴠᴇʟᴇʀ's sᴛᴏʀʏ ᴡɪʟʟ ʟɪᴠᴇ ᴏɴ, ᴛʀᴇᴀsᴜʀᴇᴅ ʙʏ ᴡʜᴏ ʙɪᴅ ʜɪᴍ ғᴀʀᴇᴡᴇʟʟ
ɪɴ ᴀ ᴍʏsᴛᴇʀɪᴏᴜs ᴅɪᴍᴇɴsɪᴏɴ ᴏᴜᴛsɪᴅᴇ ᴏғ ᴛʜᴇ ʀᴇᴀʟᴍ ᴏғ ᴛʜᴇ ʟɪᴠɪɴɢ ʟɪᴇs ᴛʜᴇ ǫᴜɪɴᴅᴇᴄɪᴍ, ᴀ ʙᴀʀ ᴡʜᴇʀᴇ ᴘᴇᴏᴘʟᴇ ᴡʜᴏ ᴅɪᴇᴅ ᴀᴛ ᴛʜᴇ sᴀᴍᴇ ᴛɪᴍᴇ ᴀʀᴇ ᴡᴇʟᴄᴏᴍᴇᴅ ʙʏ ɪᴛs ᴇɴɪɢᴍᴀᴛɪᴄ ʙᴀʀᴛᴇɴᴅᴇʀ ᴅᴇᴄɪᴍ, ᴏɴᴇ ᴡʜᴏ sᴜɢɢᴇsᴛs ᴛʜᴀᴛ ᴛʜᴇ ɢᴜᴇsᴛs ᴀᴄᴄᴇᴘᴛ ʜɪs ᴄʜᴀʟʟᴇɴɢᴇ, ᴀ ᴅᴇᴀᴅʟʏ ɢᴀᴍᴇ ᴡʜᴇʀᴇ ᴛʜᴇʏ ᴡɪʟʟ ʙᴇ ᴘᴜᴛ ᴛᴏ ᴛʜᴇɪʀ ᴜʟᴛɪᴍᴀᴛᴇ ᴛᴇsᴛ. ᴛʜᴇ ʙᴀʀᴛᴇɴᴅᴇʀ ɪs ᴀɴ ᴀʀʙɪᴛᴇʀ, a ᴊᴜᴅɢᴇ ᴡʜᴏ ᴅᴇᴄɪᴅᴇs ᴛʜᴇ ғɪɴᴀʟ ᴅᴇsᴛɪɴᴀᴛɪᴏɴ ᴏғ ᴍᴀɴ ᴀғᴛᴇʀ ᴅᴇᴀᴛʜ ᴀɴᴅ ᴛʜᴇ ǫᴜɪɴᴅᴇᴄɪᴍ ɪs ᴘᴀʀᴛ ᴏғ ᴡʜᴀᴛ ᴛʜᴇʏ ᴄᴀʟʟ ᴛʜᴇ ᴏᴛʜᴇʀᴡᴏʀʟᴅ, ᴀ sᴏʀᴛ ᴏғ ʟɪᴍʙᴏ ʙᴇᴛᴡᴇᴇɴ ʀᴇɪɴᴄᴀʀɴᴀᴛɪᴏɴ ᴀɴᴅ ᴠᴏɪᴅ ᴡʜᴇʀᴇ ᴛʜis ᴘʟᴀᴄᴇ ɪs ᴏɴʟʏ ᴀ sᴍᴀʟʟ ғʀᴀᴄᴛɪᴏɴ ᴏғ ᴛʜᴇ ᴡʜᴏʟᴇ sʏsᴛᴇᴍ. ᴡᴇ'ʟʟ ᴡɪᴛɴᴇss ᴛʜᴇ ᴠᴀʀɪᴏᴜs ᴛʀɪᴀʟs ɪɴ ᴇxᴛʀᴇᴍᴇ ᴄɪʀᴄᴜᴍsᴛᴀɴᴄᴇs, ғᴏʀ ᴛʜᴇ sole ᴘᴜʀᴘᴏsᴇ ᴏғ ʀᴇᴠᴇᴀʟɪɴɢ ʜɪs ɢᴜᴇsᴛs ᴛʀᴜᴇ ɴᴀᴛᴜʀᴇ
Welcome to the Quindecim my guests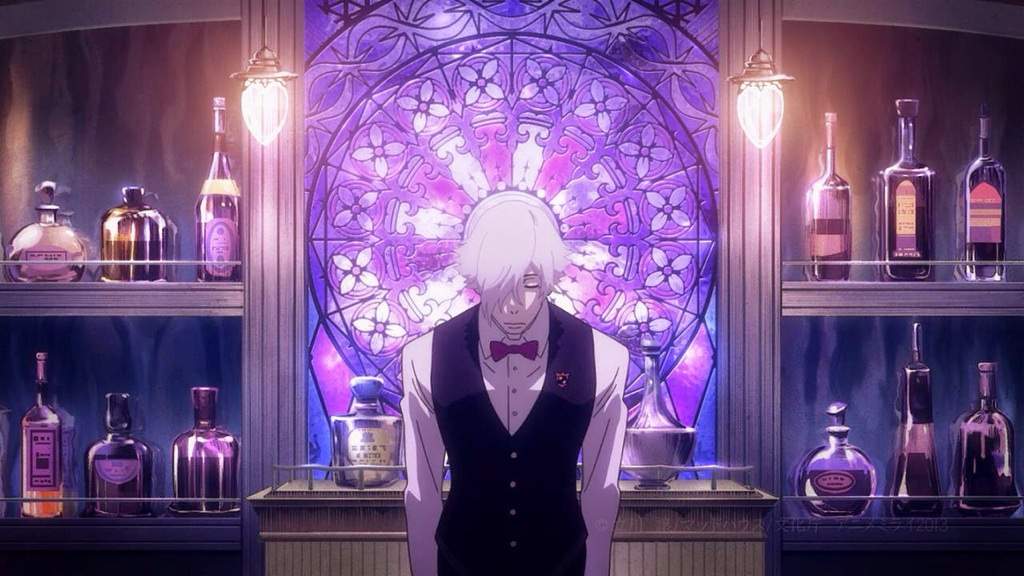 My name is Humble Reaper and I'm a reviewer, judging anime and their worth. You may not read if you wish but I strongly advise you against doing so.
This is the classy review of Death Parade, psychological seinen from last season that is a 12 episodes series based on the ova movie Death Billiards of 2013. The review will cover the work in its entirety but both the ova and anime series are on the same level. We're analyzing this according to Graphics, Characters, Sound, Plot and Personal Entertainment. Is the show good enough ? or it should be sent into the void of this industry ?
Art and Animation of Death Parade
Score 8/10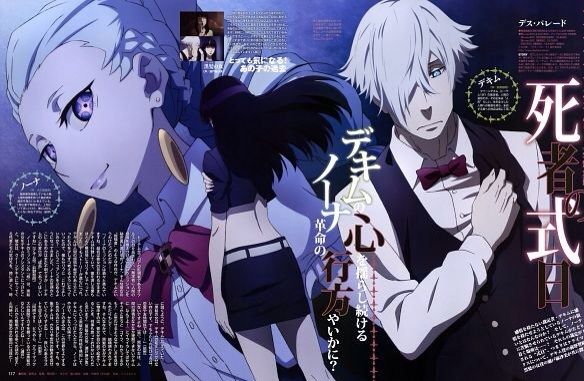 It's undisputed that Madhouse is one of the best studio of all times, we've been spoilt by their high standard of quality in all aspects for years and this show is no exception. Although DP is no ordinary action filled anime don't let this fool you, we're talking about high production values. The story progression is usually driven through different games like billiards and darts, used as a means by which the true nature of humans is revealed. You'll be enticed by the splendid and thrilling shots that follow the whole gaming "action", every movement is wonderfully performed.
The art is pretty unique and extremely stylish but what surprised me most is the absolutely gorgeous environments, especially the bar and its design.
Characters of Death Parade
Score 9/10
If you read my previous reviews you would be used to a certain expression of mine, that is "the cast is not a holy monster of psychological characterization but it works". I'm excited to say that this time we are talking about a gem of series where the cast that works amazingly also has a deep and thought provoking profile and this is very rare nowadays unfortunately. The characters are a paradox as they are officially regarded as emotionless beings in the DP universe but they are very like able and especially in the case of our protagonist Decim, unpredictably surprising in the development throughout the story. Every episode introduces new characters and everyone, both main and secondary, has a realistic and well rounded personality
Soundtrack and Acting of Death Parade
Score 9/10
Of course they had to give the show an awesome soundtrack to match the other awesome aspects of this show but I digress. The anime is yes a mix of somber and dark themes, but it's more like a grim sky that is torn asunder by powerful and radiant rays of hope and regretlessness. The ost is quite small but nonetheless it manages to capture the very essence of the series with its holy tunes, piano and instrumental music, classy jazz and electronic music to accompany the "night club" vibe and atmosphere, everything seems indeed pervaded by a velvet shroud of dream.
The japanese voice acting does its job wonderfully even with a very young cast. The opening and ending ? the ending is very good and highly symbolic while the opening… stay away from it it's drug in soundwave form I know it's so good but it will consume you trust me.
Story and Pacing of Death Parade
Score 9/10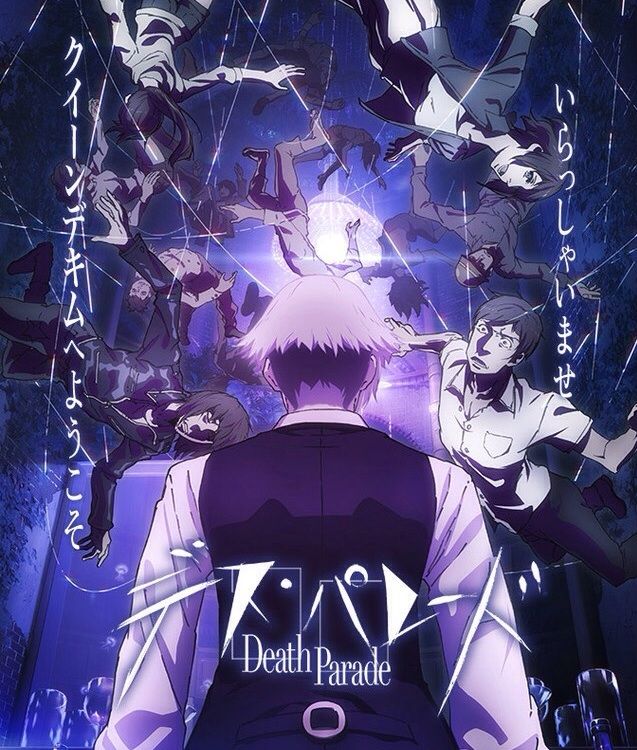 These kind of works with such profound psychological and spiritual themes are surely trademarks of some of the most famous Madhouse adaptations. The show's main focus revolves around the meaning of life which only gains importance thanks to its dark, unavoidable frightful counterpart, death.
Our existence evolves and changes the closer we are to the end, death is what makes every second of our existence meaningful, the various games are the means by which our worth both of us as a person and our experienced lives are put to test. As the story unfolds with its intricate mysteries we are caught in the storm of psychological dilemmas and our protagonists are gradually shown and explored in their facets.
What I appreciate the most is the perfect balance among the show's elements, devoid of any pretentious pointlessly complex, dark and one sided themes, instead we have a realistic approach, rarely a show with so much "death" has been so truthful about life.
Personal Enjoyment of Death Parade
Score 10/10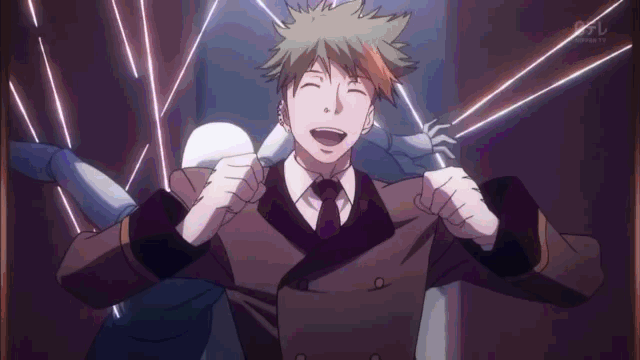 Why does such a serious and dark show have the most cheerful and random opening ever ? Why is Decim so bae and Nona so moe ? You see people spend their life too focused on asking themselves why when they should say "why not" ? This kind of dissonance also present in the show itself other than the opening manages to break the often tense and sad episodes and the result removes any kind of redundancy. The vibe of the Quindecim and the interactions of its inhabitants are a delight to get into and makes it so that I would be glad if even a second series of our characters doing random stuff came out, that would be enough.
Shows like this are the evolution of that overrated and over hyped kind of anime called "dark" and no, we don't even need excessive gore or drama folks we only need Decim bae…
Overall Score 9.0/10 Reincarnation !
Well until the next judgement well I mean review…
Why the score is not higher ? Cause the 12 episodes are surely enough don't get me wrong but they should never have made a series that makes me cry out "please milk the franchise for countless sequels"