One Week Friends Anime Review
One Week Friends/Isshuukan Friends
Aired from Apr 7, 2014 to Jun 23, 2014
One Week Friends is one of the first slice of life anime that I watched. It helped me get into the genre and realize how much potential these types of shows can have. Even though not the best anime ever, it was still quite a heartwarming story full of friendship, a little romance, and kindness. Some people might look over this sweet gem, thinking it's just another generic rom-com. I think people need to be more open, as was I, and they might find a story that will linger in their hearts for a while after. I'll admit, this story isn't the fast paced anime, nor does it have captivating action scenes, but it was still a great show nonetheless. I wasn't too sure about this genre as a whole, as I usually stick to fantasy stories and shows, but this show confirmed I wasn't wasting my time. I am thankful for that. This anime was a lot of fun to watch and see what would happen in the end. My only regret was that I should've waited for all the episodes to be out before watching the series. I couldn't stand the waiting! The things happening each episode drew me in, making me curious to what would happen next to the characters. The art, characters, and story was all sort of… soothing in a way. This is one of those anime that is bittersweet at times, but in the end, the show will melt your heart. Welcome to my review of One Week Friends/Isshuukan Friends.
Story of One Week Friends

The story starts off with the male lead —Hase— chasing after this girl named Fujimiya. He's always wanted to talk to her, but she doesn't seem to want to have any relations with anybody at the school. Some perceive her as rude and cold, while others think she's simply weird and sort of crazy. Hase wants to reach out to her and perhaps comfort her. She runs away from him at first, but Fujimiya eventually feels comfortable to have lunch with him. Still, there's something holding her back from becoming close friends with Hase. You see, Fujimiya has this condition. Her condition erases her memory of her friends every week. Soon, Hase finds out about her condition that she is vexed by. He is not dissuaded. Instead, he is even more determined to become her friend. Even if it only ever lasts for a week.
Now, it's really easy to go into spoilers with this anime, but I'll do my best to avoid them. Hase begins to regularly eat lunch on the rooftop with Fujimiya.  They also hang after school at places like the crepe shop, a karaoke place, and eventually at each other's houses. I love how this anime really digs deep into the concept of friendship. What makes a good friend? What is friendship? As their friendship progresses and digresses, you really get to see those things explored in more detail. Also, everything isn't totally hopeless with Fujimiya's memory condition. Hase suggests that she keeps a diary to record the events that happened every week. At times, she forgot to record things, but altogether, this improves the situation greatly. Her memory also seems to get better as the anime continues. She begins to remember small details; like how Hase likes his eggs cooked. It doesn't sound like much, but it's still progress.
Hase and Fujimiya do get into fights along the way. At times, Fujimiya forgets everything about Hase, leading to some conflict and problems. Hase has to start the whole thing over at the point. Luckily, certain things can spark her memories of him, so things aren't totally hopeless. In the story, you'll find the cause of her memory issues and what her life has been like. Also, throughout the story you'll probably wonder if their is going to be romance between Hase and Fujimiya. I can't say much without giving everything away, but when I was done with the story and all; I wasn't disappointed. I loved how all the characters slowly bonded together in the story. It was a sweet and honestly really heartwarming at times.
Along the way, another character with problems gets introduced. Her name is Saki Yamagishi. She is clumsy, forgettable, and is pretty dependent on other people. This anime shows the mutual relationship between two friends to help each other out. Saki befriends Hase's friend Kiryuu. Nothing much happens between the two, except for helping other and watching out for each other. Saki used to be bullied a few years back, but now has friends to stand up for her. The new character changes up the story a little bit, adding new conflicts and friendships. The band of friends study together, and get even closer to each other. Saki added some humor and silliness to the show, along with new ideas about friendship. This show really shows how a good friend can truly change your life.
The story took some interesting twists along the way. Each episode kept you interested for what was going to be coming up ahead. That's why it was so difficult to watch one episode a week. There always seemed to be a little bit of a cliffhanger every episode to keep you going. You would never know what was coming around the corner. Would love blossom? How would everything end up in the end? The story created a good amount of suspense. Not too much, but just right.
From tests to gossip, the events that occurred during the anime were fairly standard things you would see in a slice of life drama. My favorite episode was when they went to see fireworks on the beach during summer break. After all their work they had to do at school, it was nice for them to take a break. This episode is one of my favorites because of how beautiful the fireworks are, the chemistry between Hase and Fujimiya, and the comedic moments in between. It felt like it all came together really nicely. Most episodes were done well, but this one deserves a special mention.
The ending, I have to admit, may have not been the best. I don't obsess over the endings too much, as it's the journey that matters, not the destination. Still, I look at the ending as a chance for a bad anime to redeem itself or a good anime to become a masterpiece. The ending did wrap everything up, but perhaps not in the best way. Don't get me wrong; it was heartwarming and sweet, all that good stuff, but I ultimately didn't like how all the relationships were settled. How much you'll enjoy the ending will depend on how you feel about the characters. I can't say much else besides that without giving everything away. All and all, it did what it needed to do, but didn't make the anime wrap up spectacularly.
In conclusion, I give One Week Friends an 7.5 out of 10 for the story category. The pacing was a tad bit slow at times, the dialogue seemed sort of funny in a couple scenes, and the ending wasn't everything I hoped it to be. Otherwise, this show did great in this department. The creators used not that original of an idea, but still made something quite entertaining out of it all. If they had changed the ending a little bit, I would have loved this show a ton more, but alas, it wasn't to be. The story did a great job exploring the in and outs of friendship, along with having suspenseful drama and some nice comedy occasionally. No fan service either! A story that was pleasant and not bad at all.
Characters of One Week Friends
The characters were one of the things that did give a lot of lively energy to the anime, but weren't the amazing characters to ever exist. They were still good and all, but not the best. Not everything can be spectacular everywhere. I especially liked the bonding between all the characters, showing how important friendship was to each of them. The determination of Hase really showed how far people are willing to go for somebody they like or love strongly This definitely pulled a couple heartstrings from time to time. I also loved and valued the variety of personalities there were coming from all the characters. None of them ever seemed like copies or just slightly tweaked from another character. Additionally, the chemistry between the characters was also great to see. The way certain characters could bond together so perfectly was touching and sweet. Sometimes I felt a couple of the characters were a little bland. I also occasionally got frustrated when something was blatantly obvious, but the main character acted oblivious. Otherwise, I enjoyed the charming crew of characters.
My heart always ached for her throughout the series. It must be tough to have your memories of your friendships be erased every Monday. She's lucky to develop such good friends who support her along the way. For the longest time, she was too afraid to get close to anybody; knowing she would simply forget them after a week. People thought of her as cold and anti-social. Hase changed all of this. Fujimiya quickly realized how things could work out even with her condition. Friends no longer seemed far out of her reach. I think she's a pretty neat female character, as she is kind-hearted, sweet, helpful, and a sincerely nice person. I wish there were more people like her in the real world. I loved all the moments that Hase and Fujimiya shared together. It was quite touching at times. Through hardship, she grows and grows to be a stronger character. By the end of the series, she seems more independent and strong, but holds her friendships quite closely. I think she's the character that changed the most throughout the series. You really do notice the difference between her character at the start and how she is in the end. She's my favorite and most interesting character for this anime.
He is the kind of person that doesn't stop trying to achieve a goal, no matter how hopeless it may seem. He does whatever it takes to help Fujimiya and become her friend. Week after week, he tries again and again. He tries all sort of things to help with Fujimiya's unfortunate condition. The one thing he doesn't try is giving up. He's the kind of friend who will always look after your back; the one who you can trust no matter what. He did seem sort of bland or a tad bit boring at time, but overall he didn't dissapoint me. Even after the rumors start, involving Hase and Fujimiya, he isn't dissuaded one bit. He doesn't care what other people think of him. That's he kind of personality that I really like to see in an anime of any kind. Hase didn't change that much throughout the series, but that didn't matter to much to me. Not every character needs to change. I think he makes a good match for Fujimiya, as he is soft like her, along with them having good chemistry with each other.
Yamagishi is such a clumsy and forgetful person that she really does need friends to help her out, otherwise she'll be bewildered 90% of the time. People have made fun of her in the past, but now that is just faint memories. Her friends will stand up for he and stand by her side until the end of time. I always thought she was a nice character to lighten up the mood from time to time. A couple chuckles are to be had when she makes some minor, silly, cute, mistake. I honestly wished she was in the show earlier, so I could experience more of her adorableness. I also wish the anime would give the viewers more information about Yamagishi. I felt like she could have used a little more fleshing out. She was an interesting addition to the show and kept things moving along, even if she might crash into things doing so. A likable and cute character to have.
Kiryuu is Hase's close friend. Most girls in the school actually have a crush on him, but he seems too "scary" to talk too. Although cold, he will still help out a friend in need. At times, I really wish he would open up more, as hardly anything is revealed about his past or feelings. He is quite a stoic character indeed. It seems in the show, most conflicts are actually created by him, but maybe that's just me. He annoyed me during some parts of the show, but whenever he interacted with Yamagishi, that made up for it. Hase and Kiryuu do get in a couple fights over Fujimiya from to time, as Kiryuu is always suspicious of everything. He is curious why she never interacts with the other students and tries to make friends. That's how her secret gets revealed to him. Maybe he should've just left her alone, and never got involved in the whole thing. Critically, he a fairly good and developed character, but personally, I really didn't like him. He always seemed to mess up everything. Oh while. At least he wasn't a Gary Stue and actually added something to this anime.
Sound of One Week Friends
The sound was an alright addition to the anime. My favorite song from the entire show was the opening theme. It was so sweet and seemed to set the tone for each episode. I really, really, liked how well the artwork and sound went together with the opening. I knew as soon as I saw the opening, that this would at least be a decent series. Not the one of the greatest openings of all time, like Steins;Gate, but still really soothing and spectacular in its own way. The ending was okay, but I would only listen to it occasionally. The rest of the songs were nice during each episode, but all in all, were sort of forgettable. I wouldn't listen to the music by itself, except for the opening, but it had a good synergy with anime most of the time, never really having an annoying or irritating song.
The voice actors, as always, did their job better than they ever needed to. I think Fujimiya's voice actor was the best out of all them. She really stressed her emotions and everything seemed to flow naturally from her character. Kudos to Amamiya, Sora for the excellent job. The other voice actors were great, but she was the one who really stood out for me. At the time of this review, there has been no English dub for One Week Friends. The Japanese one will probably triumph the dub, if there is one to be released for this show, which I highly doubt.
In One Week Friends, the noises that are in the environment are done okay. To be honest, I don't really remember that much about how well the show did the noise, but I just remember it was simply fine. It was good most times, but lacking detail at other times. Still a good job, as far as I can remember.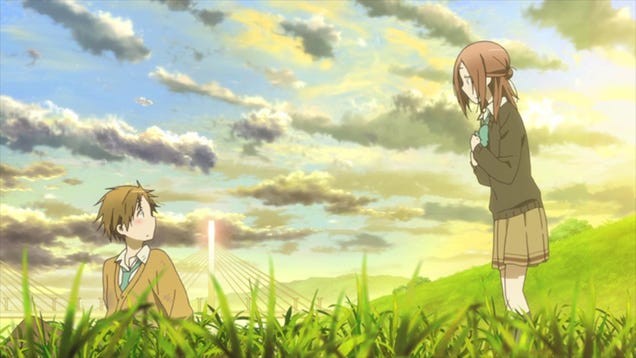 The art style of One Week Friends was unique, soothing, and was beautiful overall. The art was different from the usual over-saturated art of modern anime, but not too lacking in detail. The lighting was done magnificently and the backgrounds right along with it. The animation was also smoothly done, which is always nice. I wish there could've been some more detail in some scenes and have the colors be dimmed a tad bit, then it would've been perfect. I felt the colors were too optimistic for the show, but it was a slice of life show after all. All in all, I thought the animation fit the show wonderfully. I also didn't notice any drops in the animation quality over the course of the show, which made everything blend together nicely. Great animation, especially for the opening.
Enjoyment of One Week Friends
As I said before, this was one of the anime that brought me into the slice of life genre, so I enjoyed this show a great deal. This show really opened my eyes to how enjoyable these types of shows could be. I enjoyed watching every episode, even though I was watching it around the time it aired, so I had to wait a painful week. With a couple twists here and there, I really wanted to keep going and see what would happen with all of their friendships. The characters, the importance of friends, and lovely artstyle were the things that had me enjoy it a great deal. Also, the story was also interesting, even though it used the classic amnesia plot. I simply enjoyed seeing the characters interact with each other. This anime did its job of keeping me entertained.
Overall Notes and Final Rating:
If you are new to the slice of life genre, and are wanting a heartfelt, sweet, and sincere anime about friendship, then this show is definitely for you. It will keep you entertained, and delight you with the different personalities of the characters. This isn't the best slice of life show, but it definitely is a great one. One Week Friends is an more of an upbeat show, so if you want a darker one, go watch Welcome to the NHK. This show strongests point is its unique style of artwork and the interesting characters. The weakest point would have to be perhaps the ending or the story in general. It might even be a little cheesy at times, I admit. From what I experienced, the good qualities overwhelm the bad ones. That's always a positive sign.
Since it's only twelve episodes, it's a great show to marathon whenever you have the time. Maybe you'll learn a thing or two about friendship. With no fanservice, this show can take itself seriously and stand out a tiny bit from other shows. I enjoyed the humor in this show too. Even not the most humorous anime, it did have its moments. With all that being said, I say this anime is a solid 8 out of 10. A great anime to watch and see how the characters will react to everything. It's a fun watch, but don't be expecting anything too new or a masterpiece of sorts. I hope you'll enjoy it.