Toradora Anime Review
Warning: Contains Spoilers!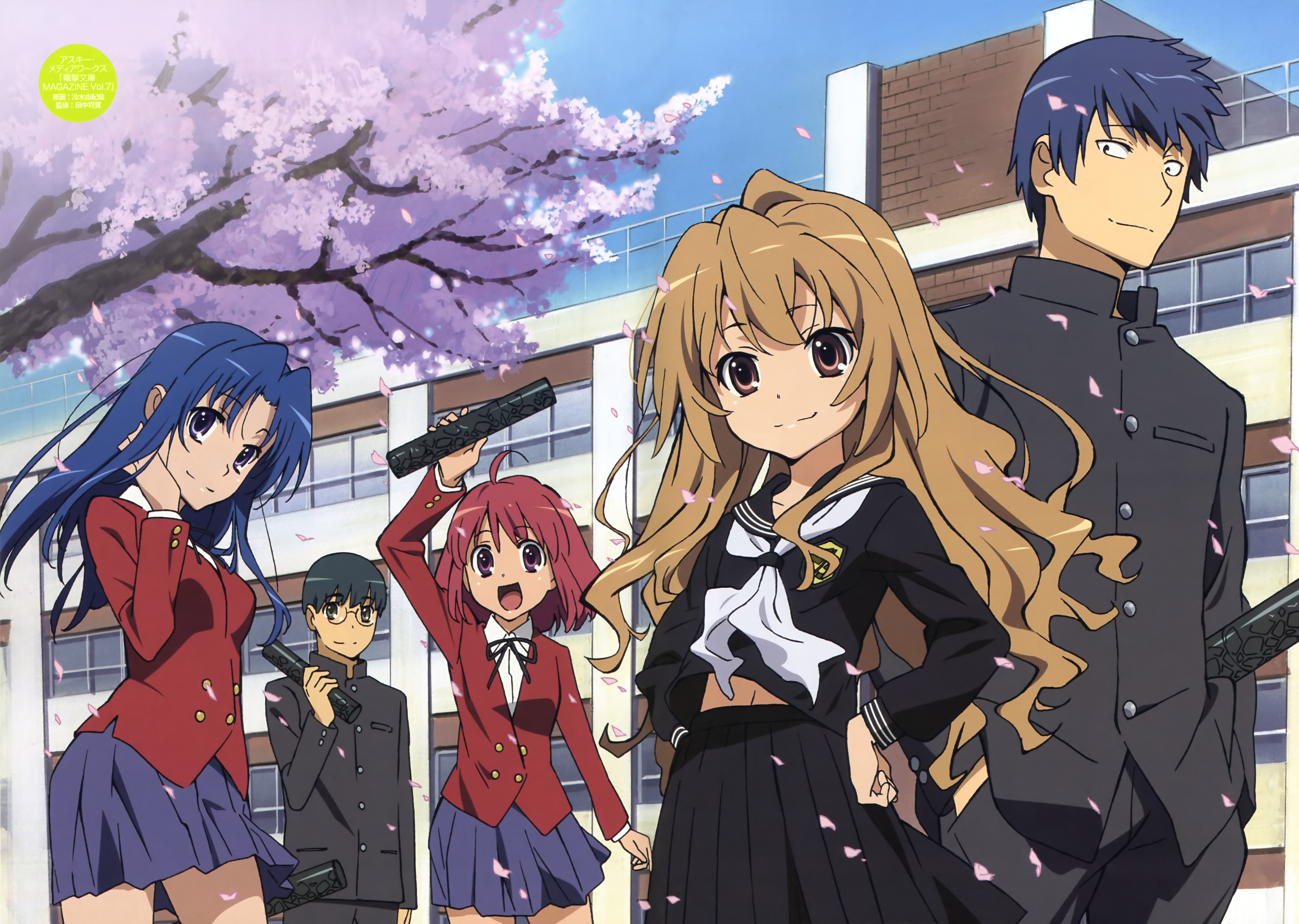 Toradora's story begins with the male protagonist Ryūji Takasu who is frustrated at trying to look his best as he enters his second year of high school. Despite his gentle personality, his eyes make him look like an intimidating delinquent, so he feels utterly hopeless about his chances of getting a girlfriend anytime soon, and does not have many close friends either. After being greeted by his hungover mother in the morning, Ryūji goes to school and is happy to find that he gets to be in the same class with his best friend Yūsaku Kitamura and a girl he has a crush on, Minori Kushieda. However, it is then that he unexpectedly walks into "the school's most dangerous animal of the highest risk level"—Taiga Aisaka—who just happens to also be in his class, and is best friends with Minori.
Taiga has a negative attitude towards others and will not hesitate to snap at people. After meeting Ryūji, she takes an instant dislike to him. Taiga comes from a rich family, but she has moved out to live on her own due to family issues. She is coincidentally living in an apartment next to Ryūji's. When Ryūji discovers that Taiga has a crush on Yūsaku, and Taiga finds out about Ryūji's affections towards Minori, Ryūji suggests that they cooperate to win the objects of their affections. Taiga exploits the fact that Ryūji will do anything to get closer to Minori. She makes him her personal dog, getting him to do all her household chores (cooking and cleaning). Taiga spends a lot of her time over at his house, so much that she could almost be considered a member of his family. Since Ryūji spends a lot of time with Taiga, he has opened up to her world and to a side of her that most people do not see. The two also try to help each other improve the way people view them. However people they know from school start to become curious about their strange relationship and rumors begin to spread about them behind their backs. Ryūji and Taiga start getting along more as things progress with the relationships between the characters and eventually confess their true feelings of love towards each other.
Characters of Toradora
The series' main male protagonist, Ryūji is a seventeen-year-old high school student in his second year, class 2-C. Due to heredity, his sanpaku eyes make him look like an intimidating delinquent and causes many misunderstandings. He lives in a fatherless family with just his mother, and due to this, Ryūji has learned to be self-sufficient. He is good at cooking and keeping everything in his house clean (to the point of obsession), and also excels at sewing. He holds a crush on Minori Kushieda, a girl his age in his class. He has a pet parakeet named "Inko-chan". Ryūji often helps Taiga with domestic chores which she is otherwise unable to perform. At school, he is known as "the only person able to stop the palmtop tiger", referring to Taiga's nickname.
Taiga is a girl in Ryūji's class, as well as the series' main female protagonist. She has a well-regulated and beautiful appearance though is unable to stomach company from others. Due to her often snapping at others in brutal ways and her short stature, she is given the nickname "Palmtop Tiger". Her under-developed body and the added nickname has given her a complex which in turn serves to give her a negative attitude and facial expression. Essentially, Taiga gets upset easily. She is also brutally honest, typically when she is lashing out at someone. Due to her cute looks, she often gets confessions of love by boys, but she turns down every one of them, including Yūsaku Kitamura (which she later regrets). She is clumsy and tries to hide that too; it seems that only Ryūji has observed it.
Minori is a girl in Ryūji's class, and is a close friend to Taiga. She is also known by the pet name "Minorin". In contrast to the violent nature of Taiga, Minori is always smiling and cheerful. She is very athletic and is the captain of the girl's softball club at school, though at the same time she holds many part time jobs. She is a glutton when it comes to food, but is also constantly combating it with dieting, calling herself a "diet warrior". She gets a thrill out of being scared. Despite her air-headed tendencies, she is very perceptive, and is one of the few people to see Ryūji for the gentle person he is, and is also not fooled by Ami's acts of innocence. It is implied that her air-headed tendencies may be a facade, and later revealed that she too loves Ryūji.
Yūsaku is a male student in Ryūji's class, and is his best friend. He is the vice-president of the student council, the class representative, and captain of the boy's softball club at school. Yūsaku wears glasses, and has a diligent personality. He thinks he is poor at talking to girls, though Ryūji observes otherwise. During his time as the vice-president of the student council, he eventually falls in love with the student council president, Sumire Kanō. A running gag is that he will appear out of nowhere behind Taiga and Ryūji when they are discussing a "plan of attack" to get their crushes. Like Minori, he has an unusual personality, but often it is an expression of his friendship and appreciation, though it can easily get out of hand fast. After his graduation, he goes to study abroad in America, chasing after Sumire Kanō.
Ami is Yūsaku's childhood friend who transfers into his class midway through their second year of high school. She is very beautiful and even works as a model and is seen as the mature one of the group. After she transfers schools she temporarily stops modeling. However, she still continues to go to the gym readily and maintains a slim figure. She is always kind and generous towards others, though this is merely a deception. In truth, she is a princess and has an arrogant belief in her own cuteness, a trait that she tries to hide from most others. During her first meeting with Taiga, Ami shows her true colors, but the tables are turned when Taiga counterattacks by slapping her. Since then, Ami and Taiga have been enemies, with Ami becoming one of a few who can tease Taiga at will; and Taiga referring to Ami as Baka-chi (Stupid Chihuahua). Ami occasionally sets aside her facade and speaks honestly to Ryūji, and is aware that she is really dark and twisted. Despite all this, Ami still sometimes envies Taiga since she can always be honest. Ami toys with developing a love interest in Ryūji, asking him if he would love her real self and give her a second chance. She has a deep understanding of the relationship situation going on between Minori, Ryūji, Taiga, and herself.
Personal Thoughts of Toradora
Toradora is a great slice of life, comedy and romance anime. The conflicts between Takasu and Taiga we're hilarious, and to watch them grow in their relationship up to the very end is very heart warming and surprising. I would recommend this anime to anyone who enjoys comedy with extreme personalities and slice of life. Personally I rate this anime a 10 out of 10 because it has everything I love in a comedy but also a light hearted feeling towards the end.
Review by Gilded Hero