Horimiya Manag Review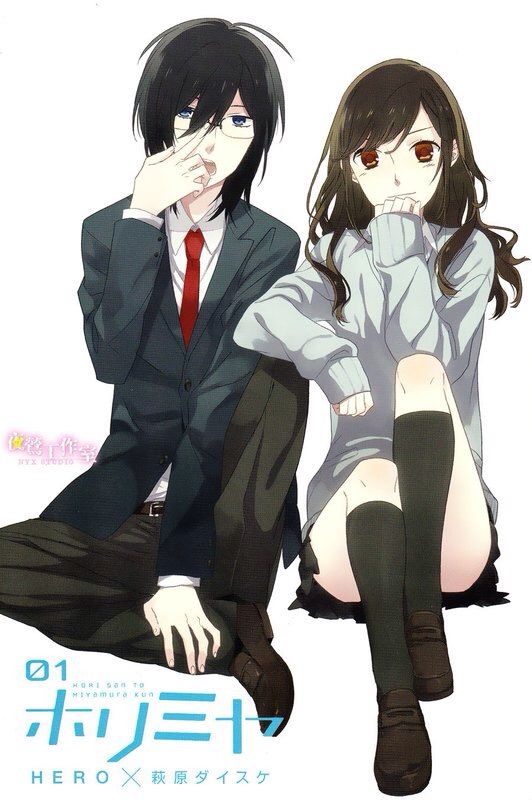 Omg, if my review of this manga doesn't make you want to read this then I don't know what will. It will be hard to complete give a complete way of how much I enjoyed this without spoiling things but I will try my best not to. Ok, on to the review!
The funny thing is, this manga is….. very simple in almost all areas. Why is it so good if it is simple? Because the main reason for this manga is the characters and the readers enjoyment. Horimiya is a RomCom. RomComs are very predictable and easy to guess. But the thing about this manga is that the story doesn't focus on romance that much and the comedy isn't focused around the romance either. I actually rather hate it in romantic comedies when something that isn't such a big deal is made into this huge thing for no reason. But this isn't the case with Horimiya. They don't get flustered if someone asked them to be their boyfriend or girlfriend. There isn't any big dramatic scenes like the "big first kiss" cliché. Like I said before it seems as if it's not even focused around the RomCom aspect. In fact it's more of a slice of life than a romantic comedy. The couple and their friends go through their last year of high school where a bunch of comedic things happen. You also get to see the couple being together early on and enjoy how their relationship last instead of them getting together and the end and leaving it to the imagination. It's kinda hard to explain the story any further with out spoiling the whole thing but I think you guys can get the gist of the story.
Horimiya Art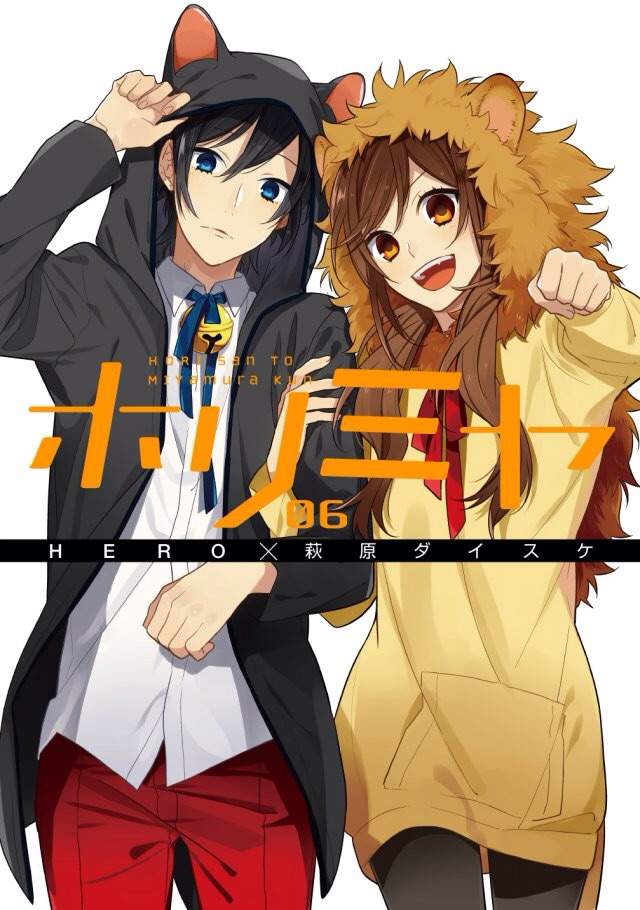 Romantic comedies tend to have the same art style and they are all pretty good for the most part. The art in this has nothing really all that special about it but the expression that the characters make are priceless and funny. The comedy scenes are good and don't seemed forced. Idk about you guys but some comedy scene seemed forced. I really don't see any flaws.
Horimiya Characters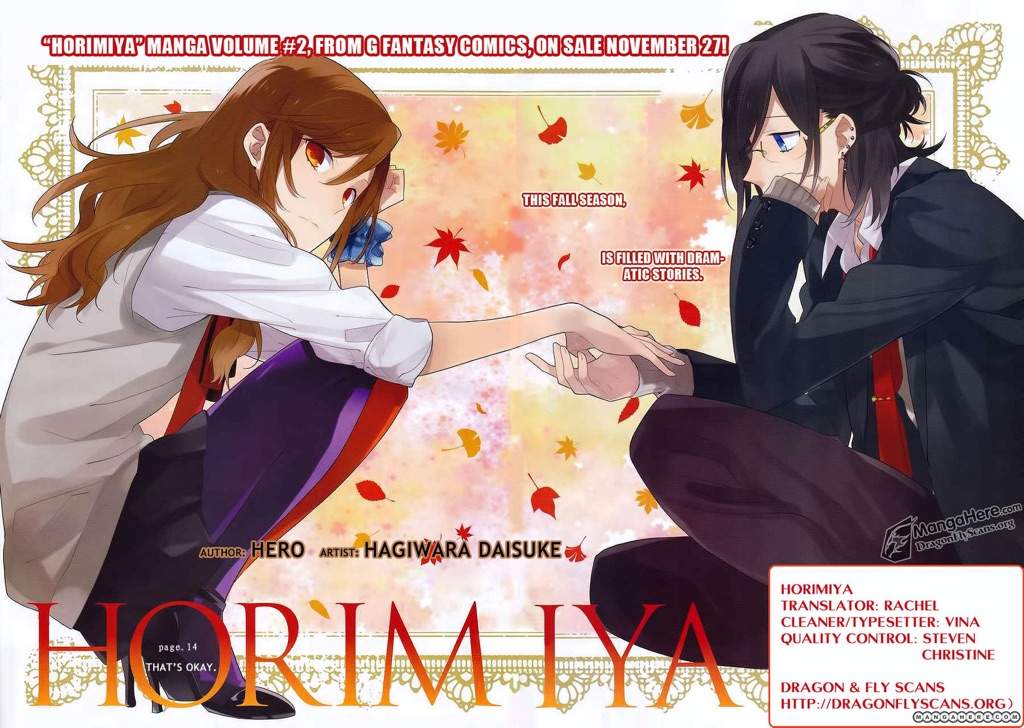 The characters are really what makes this manga amazing and enjoyable. Especially Miyamura Izumi, In school he seems like a kinda shady guy with glasses and people assume he is an otaku. Looks are very deceiving. He is not an otaku and in fact looks like a punk rock kinda guy with a whole bunch of piercings and tattoos. In reality? He is just and airhead that only excels in physical education and health despite his looks in school. Hori kyokou is the main character. In school, she is cute, smart, and actually quite popular. After school? She goes straight home and become something like a housewife though. She is also a sadist. The overview of the manga makes it seem like their split personalities are a big deal but they are more just apart of their life than anything else. They don't go to extremes to hide their other sides not do any situation happen where their secret is at stake. This is really just a slice of life manga in my opinion. Everyone of the characters gets development even the side characters and that's one of the treating things about this manga.
Horimiya Enjoyment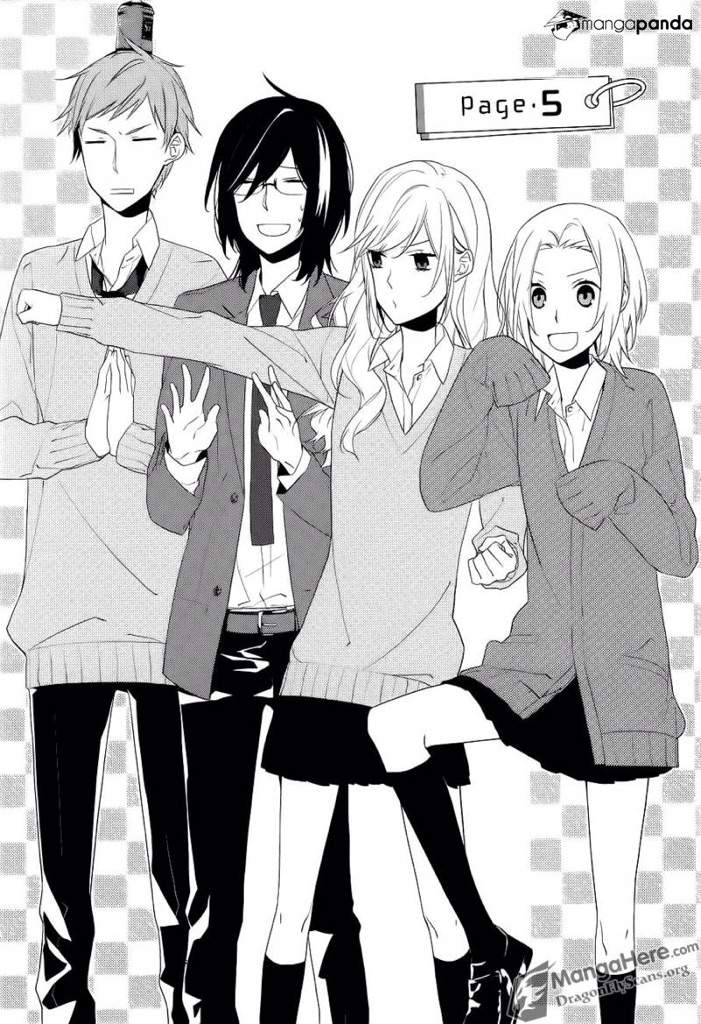 Like I said before, I don't know how anyone couldn't enjoy this. It is nice, refreshing and doesn't have all the annoying bits of a typical RomCom manga. For me reading it was actually fun and enjoyable. I laughed like crazy at times and it even gave me a sense of complete happiness for a period of time. I can't even remember the last time I laughed so much at a manga or anime. Even though I just read this today, in already thinking about re-reading this. This is one of those man has you can go back and read several times an still get the same feelings that you did the first time.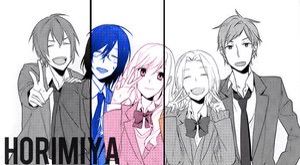 Overall, I'm am giving this a big huge 10/10! I can't think of anyway that this manga could have been any better than it is. It is perfect the way it is. This is one of those mangos that I wished they dragged on because it would have nice if they did. The only thin I find wrong was the fact that it has not set goal. I really hate that actually. They didn't focus on whole chapters of trying to get the main two characters together. They got together easy and early on too. It's really just a typical high school happy life manga.
-Manga Llama-
Overall: 10/10!
Characters:10/10!
Story: 9.5/10(only because of the no set goal)
Enjoyment:10/10!
Thanks for reading