Tokyo Ghoul Anime Review
ʏᴏᴜ ᴅᴏ ғᴇᴀʀ ᴛʜᴇᴍ
ʏᴏᴜ ᴀsᴋ ᴡʜᴀᴛ ᴛʜᴏsᴇ ɢʜᴏᴜʟs ᴀʀᴇ
ʏᴏᴜ ᴄᴀʟʟ ᴛʜᴇᴍ ᴍᴏɴsᴛᴇʀs
ᴛʜᴇ ᴀɴsᴡᴇʀ ɪs sɪᴍᴘʟᴇ
ᴊᴜsᴛ ᴛᴇʟʟ ᴍᴇ ᴡʜᴀᴛ ᴛʜᴇʏ ᴇᴀᴛ
ᴀɴᴅ ɪ'ʟʟ ᴛᴇʟʟ ʏᴏᴜ
ᴡʜᴀᴛ ᴛʜᴇʏ ᴀʀᴇ
ɢᴀɴɢs ᴀɴᴅ ʏᴀᴋᴜᴢᴀ ᴀʀᴇ ɴᴏ ʟᴏɴɢᴇʀ ᴛʜᴇ ᴍᴏsᴛ ᴅᴀɴɢᴇʀᴏᴜs ᴛʜʀᴇᴀᴛ ʏᴏᴜ ᴄᴀɴ ᴄᴏᴍᴇ
ᴀᴄʀᴏss ɪɴ ᴛᴏᴋʏᴏ's sᴛʀᴇᴇᴛs. ᴀ ᴍʏsᴛᴇʀɪᴏᴜs
ʀᴀᴄᴇ ᴏғ ʜᴜᴍᴀɴ ʟɪᴋᴇ sᴜᴘᴇʀɴᴀᴛᴜʀᴀʟ ʙᴇɪɴɢs ʜᴀs ᴇsᴛᴀʙʟɪsʜᴇᴅ ɪᴛs ᴏᴡɴ ᴍɪᴄʀᴏ sᴏᴄɪᴇᴛʏ ɪɴ ᴛʜᴇ ᴊᴀᴘᴀɴᴇsᴇ ᴄᴀᴘɪᴛᴏʟ, ᴛʜᴇʏ ᴀʀᴇ 'ɢʜᴏᴜʟs'. ᴘʜʏsɪᴄᴀʟʟʏ ʟᴏᴏᴋɪɴɢ ᴛʜᴇ sᴀᴍᴇ ᴀs ᴛʜᴇ ʀᴇɢᴜʟᴀʀ ʜᴜᴍᴀɴs, ɢʜᴏᴜʟs ʜᴀᴠᴇ ᴀ ᴜɴɪǫᴜᴇ ʙᴏᴅʏ sᴛʀᴜᴄᴛᴜʀᴇ ᴛʜᴀᴛ ᴍᴀᴋᴇ ᴛʜᴇɪʀ sᴋɪɴ ʜᴀʀᴅ ᴀs sᴛᴇᴇʟ, ɢʀᴀɴᴛɪɴɢ ᴛʜᴇᴍ sᴜᴘᴇʀ sᴛʀᴇɴɢᴛʜ ʙᴜᴛ ғᴏʀᴄɪɴɢ ᴛʜᴇᴍ ᴛᴏ ᴇᴀᴛ ᴀɴᴅ ᴅɪɢᴇsᴛ ɴᴏᴛʜɪɴɢ ʙᴜᴛ ʜᴜᴍᴀɴ ғʟᴇsʜ. ᴡᴇ ᴡɪʟʟ ғᴏʟʟᴏᴡ ᴋᴀɴᴇᴋɪ ᴋᴇɴ, ᴀ ʏᴏᴜɴɢ ᴍᴀɴ ᴛʜᴀᴛ ʟᴇᴀᴅs ᴀ ᴘᴇᴀᴄᴇғᴜʟ ʟɪғᴇ ᴀs ᴀ ɴᴏʀᴍᴀʟ sᴛᴜᴅᴇɴᴛ, ɢᴏɪɴɢ ᴏᴜᴛ ᴡɪᴛʜ ʜɪs ɴᴇᴡ ɢɪʀʟғʀɪᴇɴᴅ ғᴏʀ ᴛʜᴇ ғɪʀsᴛ ᴛɪᴍᴇ, ᴀ ᴅᴀᴛᴇ ᴡɪᴛʜ ғᴀᴛᴇ ᴛʜᴀᴛ ᴡɪʟʟ ᴄʜᴀɴɢᴇ ʜɪs ʟɪғᴇ ɪɴᴛᴏ ᴏɴᴇ ᴏғ ᴄʜᴀᴏs ᴀɴᴅ ʜᴏʀʀᴏʀ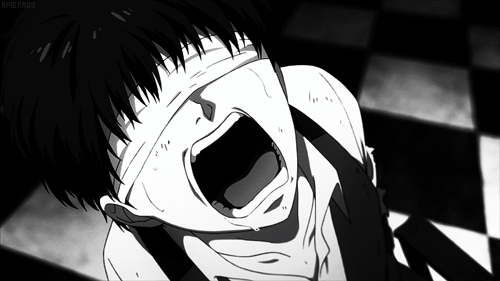 This is the monstrous review of Tokyo Ghoul, a psychological horror anime from 2014 based on the popular seinen manga with the same of Sui Ishida. I remind you that this review will only exclusively cover the first season that aired last year. I'm going to analyze this according to Graphics, Characters, Sound, Plot and Personal Enjoyment.
Art and Animation of Tokyo Ghoul
Score 8/10
The anime was produced by Studio Pierrot, a highly popular studio that produced many mainstream shounen series offering an unsteady visual quality (still having nightmares from Naruto vs Pain battle). Tokyo Ghoul is one of those series they would not dare to mess up and it indeed has a fine and sleek animation that shines during the intense battles and extremely violent scenes throughout the run. While the setting and characters are the stereotypical ones belonging to a modern era, the trait is pleasant to look at and the Kagune, the Ghoul's appendages, are a flavorful and artistic feature to the franchise.
Characters of Tokyo Ghoul
Score 6/10
I'm quite familiar with this genre of works in the anime industry and the show follows the typical stereotypes concerning characters and situations of the horror genre but don't think it's actually inherently horrible. The characters do not shine because of development or complicated characterization but they work for what they were intended to. It's surely one of those shows where the secondary characters are the main attraction and most interesting members of the cast. Even though we have some valid element among the protagonists, the show suffers from not so optimal use of the great number of characters and the protagonist Kaneki is a punch bag almost all the time
Soundtrack and Acting Of Tokyo Ghoul
Score 8/10
The opening is unquestionably the most popular one from 2014 (it boasts over 12 million views on youtube in one video) but I was not that captived by it so it's passable, not amazing but not horrible, just average. The soundtrack merely serves as a way to provide with a background support to the various scenes, that due to the highly grim and intense nature of the show it serves its job to build up the tension but nothing too memorable. What gets most of this score is the Japanese acting, even though we have some popular voice I occasionally had shivers down my spine for how realistic and heart felt the acting was, especially during violent, painful scenes, those screams and cries cannot pass unnoticed
Story and Pacing of Tokyo Ghoul
Score 7/10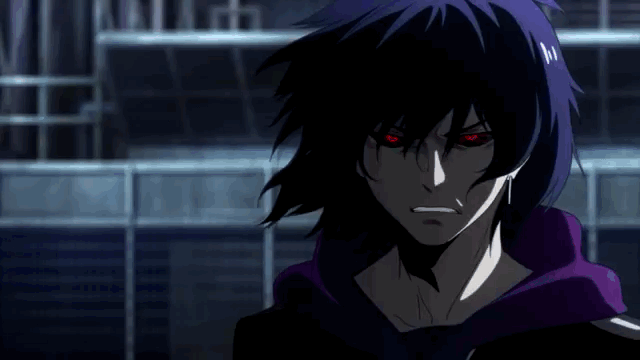 Tokyo Ghoul can boast a nicely crafted dark fantasy world that sees the duality between humans and ghouls. This is a seinen and I did expect more than just shounen like (yet spectacular) battles. At the beginning we have the protagonist Kaneki dealing with the realization to not be a human anymore, to have become a flesh feeding creature that acts with homicidal instinct. We see how Tokyo is divided in various territories each led by groups of Ghouls, this whole territorial competition and dichotomy between "I am a human" and "I am a ghoul" is never really fully explored, this would make the show more complete.
The pacing works but it is mostly characters doing things for most of it, the actual story flows slowly but it knows how to "mask" these flaws very well. I did not quite loved how it occasionally turned violence to genuine and exaggerated torture porn
Personal Enjoyment of Tokyo Ghoul
Score 7/10
I'm really sorry for disappointing all those who believed me to enter the Tokyo Ghoul hate club cause I'm not in there. It's quite obvious how the series is overrated or rather over popular for what it actually offers. The show does have all elements an anime needs to become the next Attack on Titan in terms of popularity, in this sense this is a show that clearly does not make me astonished at how it is so mainstream and I must admit I quite enjoyed it even though it has evident flaws and holes. Second season has not ended yet and I have yet to watch it and read the manga cause I'm actually intrigued to see how things will continue.
It's not the most original work in the world but it's a lie if one says that it does not offer a bit of personality and entertainment that's for sure.
Final Score 7.0/10