Grim Reapers of Kuroshitsuji
AKA: Shinigami
Primary Power: Soul collection
Identified Divisions and Departments: Main Branch, General Affairs Department, Personnel Department, Dispatch Management Division, London Division, Grim Reaper Staffing Association ,Human Resources Department, and Collection Division
Grim Reapers Abilities: Enhanced Power and Speed, Enhanced Endurance, Animal Communication, Soul Collection, Cinematic Record, and Rewriting the Present
Background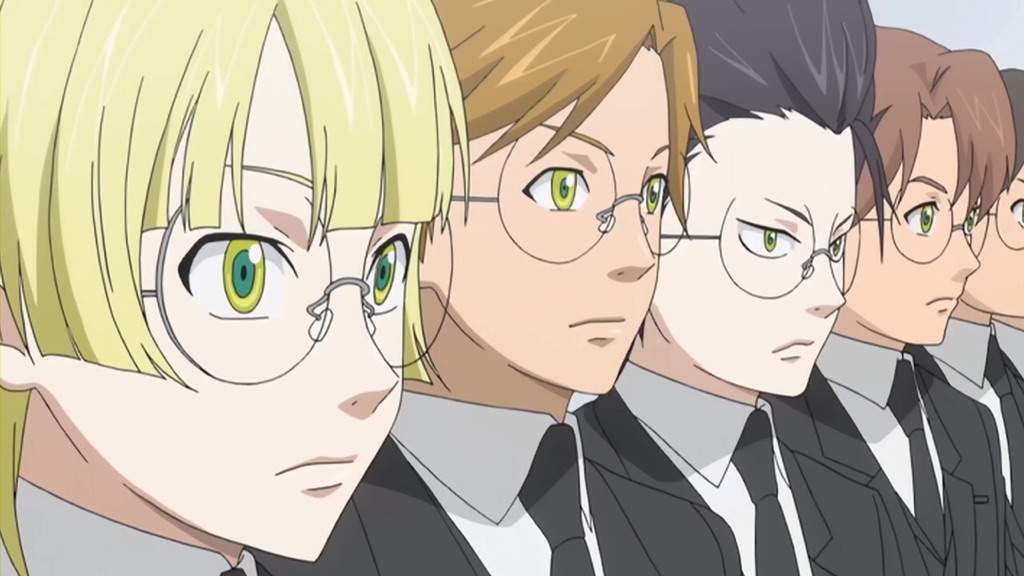 Grim Reapers are divine beings that have supernatural abilities. They basically decide whether you live or die. The idea of Grim Reapers or Shinigami's are very popular in the anime world. Kuroshitsuji is no different. In the series, four have been introduced so far. They handle the reviewing and reaping the souls of humans. There is a list that they use to review these souls. The Grim Reaper Dispatch Society is the place this all occurs. People from other departments give these lists to the Grim Reapers. These lists are handed out before the human actually dies, so this entails that they can foresee somewhat into the future. Grim Reapers are not allowed to kill anyone not on the list. The Personnel Department is in charge of telling the Grim Reaper what location to go to. They do this without being seen by the Grim Reapers. They also hate demons and have for a very long time. This is best known when William T. Spears interacted with Sebastian Michaelis.
The Killing Process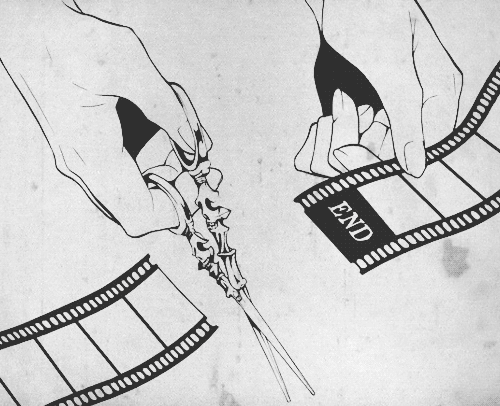 A Grim Reaper must remain emotionless to humans as well as being neutral overall. Most humans are allowed to die unless they have further business on Earth that is beneficial to mankind and Earth. When they are done with a kill, they must fill out a report as well as a reflection letter. This is then sent to the Main Branch back at base. There are those who do break rules though. Punishments are set into place to prevent this. There are no known details other than Grell saying it involved a demotion and possibly having their scythe confiscated.
Grim Reapers and Their Death Scythes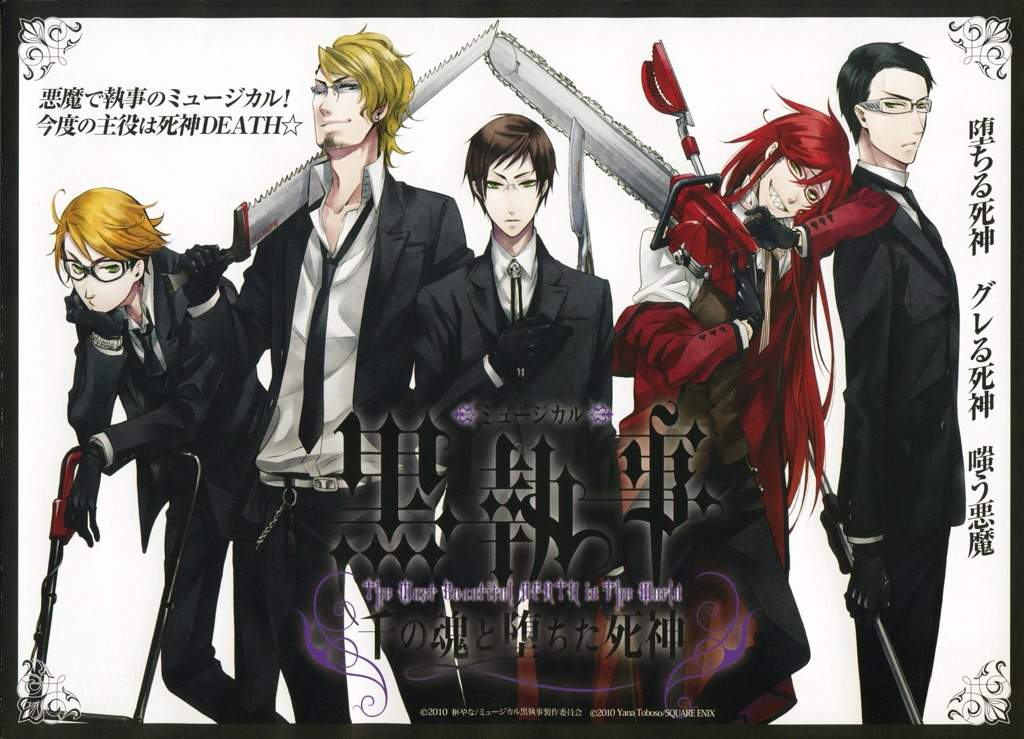 The main purposes of a Death Scythe is a weapon and to collect souls. The slice of a scythe can sever the link of the human soul and their memory. It basically ends their life. It can cut through anything including other Grim Reapers, but not another Death Scythe.
Each scythe looks different for each Grim Reaper. Some do not even fit in the time era of Kuroshitsuji (ie. the chainsaw). They may not modify their scythe without permission.
They can be used to look at the humans Cinematic Record. This how they decide whether or not that person should live or die.
What is this Cinematic Record?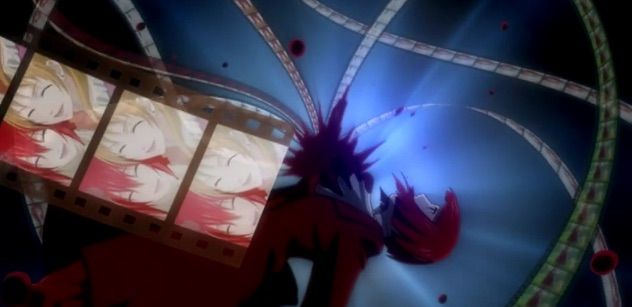 The Grim Reaper may view the person's life by viewing the Cinematic Record. This how they decide whether they live or die. When it is showing, it is basically a movie of their life. It documents all of their fondest and worst memories. When the person dies, their record ends as well. Their is an 'end mark' that appears in their Cinematic Record at their death. It can be manipulated though. One can make fake records for any human. This leaves the human soulless most of the time. Not only can Grim Reapers view them, but Angels and Demons as well. Demons are shown to have a Cinematic Record as well.
Death Bookmark: Another Useful Tool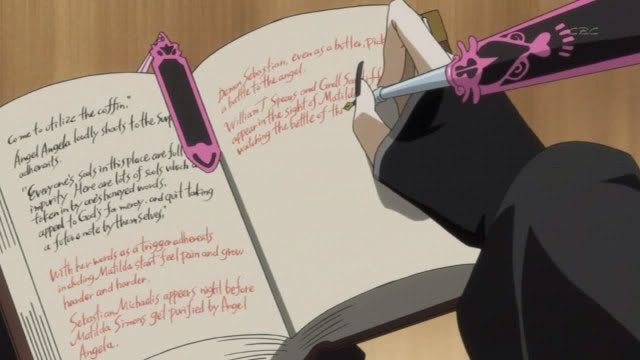 This is a bookmark that Grim Reapers use to stop a humans events from further happening when placed into the book.
Identified Grim Reapers
Grell Sutcliff
William T. Spears
Ronald Knox
Undertaker

Eric Slingby

Alan Humphries
Lawrence Anderson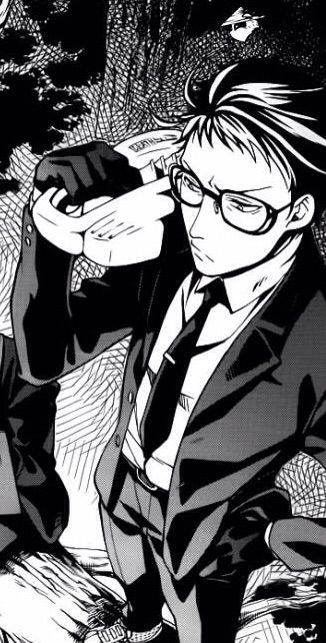 Ludgar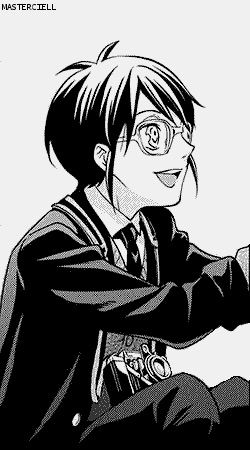 Sascha